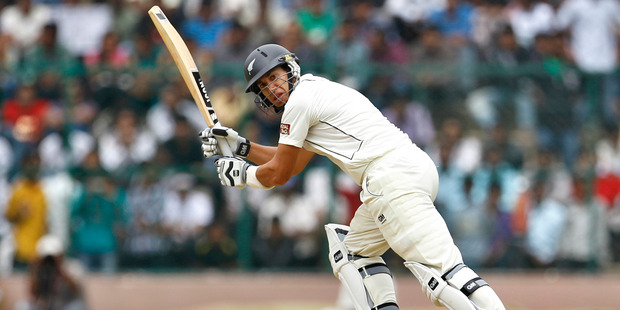 Under the most pressure he has faced during a brief reign leading his country, Ross Taylor responded on Friday through an innings filled with beauty, brute strength and, ultimately, satisfaction.
Taylor's team have been no strangers to turmoil during his 14-month tenure but it reached something of a crescendo this week.
Three straight test defeats, all by massive margins, were bad enough, but the manner in which New Zealand twice capitulated in the first test against India saw pressure piled not just on the batting order but on Taylor's leadership.
It's not always fair but, when a team is in as much disarray as the Black Caps, the man in charge often feels the full heat of the fire.
And Taylor's batting was hardly helping to alleviate the criticism. Heading into the second test in Bangalore, the 28-year-old had reached three figures only twice in his last 42 innings. His last three scores were 0, 2 and 7.
It all came together as something of a perfect storm and, when Taylor strode to the crease with his team precariously placed on 63-2, the larger ramifications of what could follow were hard to escape.
Then, Taylor made everyone quickly forget about everything but his stroke-making.
The fifth ball he saw went to the fence. The fourth he faced from Ravi Ashwin, already with 12 New Zealand scalps this series, went over the fence.
His strike rate never dipped below 100 as he briefly threatened his own record for the quickest century by a Kiwi, before finishing his 99-ball master class.
"As captain, I need to lead from the front," Taylor said after notching the seventh test ton of his career.
"When I got the job that's what I wanted to do, and when you're not scoring runs it's a lot harder for the team to listen. So when you do score runs it's satisfying."
Taylor, who eventually fell for 113, admitted the agitation around the team was hard to avoid before the match, and he said that atmosphere added to his eventual contentment.
"It's probably the most under pressure [I've been] with everything that's gone on. Being a young captain, it's a nice thing and something I'll look on."
Taylor's strategy to repel the pressure, from both home and the Indian attack, was simple - hit his way through it.
He looked to be in a hurry for much of the innings but the onslaught - which resulted in 16 fours and two sixes - was far from reckless. There was a clear method to the perceived madness and, for all his aggression, Taylor rarely looked in danger of a premature departure.
"There were a couple of blocks in there," he joked. "I wanted to play an attacking brand of cricket and take calculated risks."
Those risks reaped substantial reward for his side and for his security, and Taylor left no doubt about the near future.
"I've still got a lot more to give to this team," he said. "And hopefully a few more hundreds as well."
- APNZ