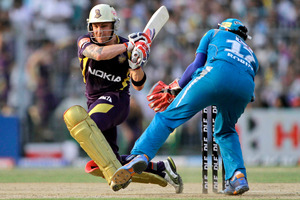 McCullum, Taylor and Vettori must choose between the IPL or a test at Lord's.
New Zealand's best cricketers have a chance to seize the initiative next May by prioritising test cricket above all else.
Much is spoken about test cricket's value; players often talk about it being the ultimate aspiration. New Zealand test and Indian Premier League regulars such as Ross Taylor, Brendon McCullum and Daniel Vettori get a chance to show their true colours in a calendar conflict between the world's most lucrative twenty20 tournament and the first test against England at Lord's. Hopefully they show one true colour: white.
The trio would have to negotiate with their IPL franchises to free up the time.
The first test starts on May 16; the IPL final is on May 26. They are likely to miss at least two weeks of the almost eight-week competition. For Taylor (US$1.1 million per season), McCullum (US$900,000) and Vettori (US$550,000), that would be a significant whack in income.
New Zealand players earn $7508 per test (plus tour expenses). It would be understandable if they took the IPL money to set up their lives. They are guaranteed five weeks' leave to play in the IPL in their contracts.
However, there is a romantic but threadbare alternative. Playing the test could make them standardbearers for future generations, much like when Jeff Wilson and Josh Kronfeld rejected the World Rugby Corporation cash in 1995 in favour of signing with the New Zealand Rugby Union so they could still play for the All Blacks.
A Taylor-McCullum-Vettori rejection of the first test will further devalue international cricket. NZC is caught in the middle. They earn 10 per cent of players' salaries in the IPL to make their best players available. However, they are also bound by the International Cricket Council future tours programme and the ECB's discretion with their itinerary.
New Zealand's presence in England has already been insulted and diluted with the allocation of just two tests against the world's top-ranked side. It is the first time in cricket history New Zealand has played anything less than a three-test series in England.
A second-string New Zealand side would reinforce the perception that the organisers got it right if England took the heavy roller to them. The Ashes summer, delayed by a year because of the Olympics, takes priority. New Zealand Cricket's powerbrokers could not convince their English counterparts to schedule the series around the IPL.
The players might have to make a sacrifice because NZC does not have the power to flex its muscle by guaranteeing a separate five-week IPL window. That was a request in the eight-year agreement between NZC, the players' association and the six major domestic associations but it has been given lip service, making a mockery of the "negotiations" between the ECB and NZC.
There had already been a battle to get the traditional test at Lord's.
Initially New Zealand was to be hosted at Sophia Gardens in Cardiff rather than Lord's for the first test. Fortunately Cardiff swapped with Lord's to become one of three venues (with Edgbaston and The Oval) for the International Cricket Council-run ChampionsTrophy to be hosted later in the English summer.
That freed Lord's up and meant the next generation of New Zealand cricketers could make their way through the WG Grace Memorial Gates in St John's Wood to play tests. Taylor, McCullum and Vettori should respect that privilege.
New Zealand has played 15 times at Lord's and won once. That was in 1999, when man-of-the-match Matt Horne made a century and Chris Cairns helped turn the match with six wickets for 77 runs in the first innings.
Those two are among 16 New Zealanders, including Vettori, to feature on the Lord's visitors' honours board.
McCullum fell four runs short of an honours board century in 2004 and three runs short in 2008, so he has unfinished business there.