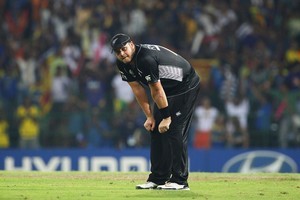 A couple of years ago Jesse Ryder returned to the McLean Park pavilion at a tea interval in a test.
He was not out and going well. At Napier, the players leave the field passing directly under the spectators who can lean over the rail.
Out bellowed a voice: "Fancy a beer, Jesse?"
By then it had become a familiar refrain. There's an old line about having to lie in the bed you make.
Ryder is now in a box from which only he can find the latch. Chances? He's had a few. And still he keeps burning his bridges.
Ryder is 27, and should be in his absolute prime. What's happened is plain wrong.
His talent is immense; it's what goes on, or more accurately what doesn't go on, upstairs which is the problem.
His actions on Wednesday night in Napier were thoughtless.
Forget for a moment he and Doug Bracewell had a couple of beers and engaged in some verbals with a couple of agents provocateurs.
Set aside Ryder's obvious problems with booze, and forget talk he's been off the liquor for a while now. He hasn't.
The reasons Ryder is out of the test team are lack of form, allied to a clear desertion of confidence. That's distinct from breaching team protocols for which Bracewell and he were omitted for today's ODI.
For that reason, Ryder may have avoided having his contract torn up. We may be talking semantics here, dancing around hard truths.
But remember his 52 in the deciding T20 at Eden Park last week. He was pilloried for an irresponsible shot which hastened New Zealand to a three-run loss.
Those who argue his form can't be that bad need to remember it was hardly a spotless half-century.
It is understood the outcry at Ryder's botched job at Eden Park hit the player hard.
Those in the know reckoned the Napier night out, and outcome, was looming like a black cloud. It was more when than if.
Failures in the subsequent first two ODIs further moved this particular train towards the edge of the cliff.
Ryder and Bracewell knew that they were in breach of rules - no alcohol while recovering from injuries - they had been part of imposing on the team.
They are common to many teams, a self-regulation exercise designed to keep the bond strong, and recognise possible potholes and step around them.
The actions of Ryder, the older man who has travelled this road often and should therefore know the ropes, and Bracewell let their teammates down.
They also betrayed the idea that in multi-person sports, team comes first, and doesn't contain an I.
So what should New Zealand Cricket's position be?
The idea of having teammates take turns as a minder for Ryder is wrong.
It's been tried and didn't work. In any case players have other, more pressing priorities such as their own careers instead of keeping an eye on a grown man.
Should Ryder's next contract have specific clauses in it, related to performance, and suited to his particular situation?
Bracewell is a different case, and viewed as a slipup as opposed to another chapter in a serial offender's rap sheet.
Still, NZC officials are known tobe monitoring the 21-year-oldclosely. They are keen to avoid him tripping over the same hurdles as Ryder.
His talent is obvious, as his nine for 60 in the test win over Australia at Hobart bore out. But any tendency towards poor decision-making off the field needs to be jumped on swiftly.
Who knows when Ryder will return to the national side. But he needs to show more than runs to get back. It may be a while.