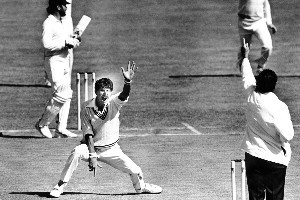 Expect plenty of pomp and celebration when England and India walk out for cricket's 2000th test on Thursday night.
Those whose leanings are strongly traditional might have preferred that it had fallen during an Ashes series, in a nod towards cricket's oldest rivalry.
And yet, given the current state of the world game - in both playing and financial terms - this would seem the ideal match-up.
England are on the rise as a playing force; India are world No 1 and, by a distance, the commercial superpower of the game.
There were times you might have wondered if the milestone would ever have ticked over, two World Wars chopping 10 years off the international game for a start.
Along the way it has endured scandals - Bodyline in the early 1930s, which briefly threatened to force a severing in diplomatic relations between England and Australia, through to the most recent blight, match-fixing.
So what of New Zealand's part in the test story?
The first test at Lancaster Park began on January 10, 1930 against England. The early signs were unpromising, New Zealand being 21 for seven within a few overs as a debutant Maurice Allom snared four wickets in five balls.
Indeed, it took a further 26 years for New Zealand to achieve a maiden victory, amid scenes of joy, against the West Indies at Eden Park.
It is one of the quirks of New Zealand's story that perhaps its greatest batsman, Bert Sutcliffe, never played in a winning test side, that his outstanding contribution and standing in the world game didn't receive a fitting reward.
He missed that 1956 victory and New Zealand's tour to South Africa in 1961-62 when the five-test rubber was squared 2-all, which still rates one of the country's best overseas efforts.
John Reid captained New Zealand in those first test victories. New Zealand has had no more forceful personality, nor dynamic all-round cricketer.
The first series victory came not at home but in Pakistan of all places, a 1-0 success in 1969 from which emerged heroic stories of players like Mark Burgess, Bob Cunis, Hedley Howarth and Dayle Hadlee.
Steadily the test wins column got longer. Beating England for the first time at the Basin Reserve in 1978, four years after the maiden win over the Aussies in Christchurch, must hold special places in the New Zealand hall of fame.
Not to forget the first win over England on their turf in 1983, and the first series win there three years later.
How long will the wait be for the next Richard Hadlee? At a wild stab, it'll be a while.
The world test record-holder when he retired with 431 wickets, he was fit to sit among the all-time great masters of seam bowling.
From where will New Zealand's next Glenn Turner or Martin Crowe spring? Both, in their distinctive ways, among the best of their time.
Highs and lows along the way, for sure, but from a small, initially unpromising acorn, it's been a no less exhilarating journey for that.