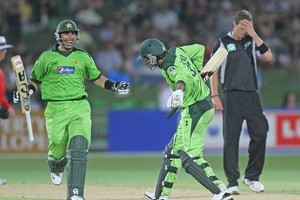 Misbah-ul-Haq could be forgiven for wanting to roll up New Zealand's cricket pitches and take them home on Sunday.
Few visiting batsmen of late have been so consistently impressive as the 36-year-old, who has enjoyed a late revival in a career which looked to be over a few months ago.
Think back to the first test against Pakistan in Hamilton last month.
Pakistan were 104 for three, slightly shaky replying to New Zealand's 275, when Misbah ambled out to the middle.
Shortly after it was 107 for four. But Misbah nursed novice Asad Shafiq along in conscientious fashion, putting on 149 for the fifth wicket. His contribution: 62 in 4h 10m, off 161 balls.
Pakistan established a 92-run lead then rolled New Zealand for a pathetic 110 to set up a 10-wicket win.
Fast forward to the Basin Reserve and the second test. Pakistan were 144 for three in response to 356 when Misbah and fellow veteran Younis Khan put on 142 to right the situation.
Misbah departed for 99 after 5h 10m and 207 balls, another potential sticky situation averted.
Then to finish the job off, with Pakistan in trouble at 42 for three on the final morning, New Zealand's tails up chasing a series-levelling win, the two old hands ensured they would win the series, adding 118 for the fourth wicket. Misbah's unbeaten 70 capped off a run which made him comfortably man of the series with a 115.5 average.
In four ODIs, he has rattled up scores of 50, 35, 93 not out and 25, averaging 67.6 with one match left - and let's not forget 126 not out off a test-strength New Zealand XI attack at Whangarei which preceded the tests and kicked off his tour de force.
Talk about a comeback with impact.
It should be no surprise that New Zealand coach John Wright has been a big admirer. He might not be the most scintillating batsman to watch, but Misbah's grit and the value he's placed on his wicket are precisely what Wright wants from his players, particularly in the test game.
"I think throughout this series he's been their glue," Wright said. "And we probably need some glue." No probably about it, actually.
Misbah hails from Mianwali in Pakistan's North West Frontier, up near the Afghanistan border where they breed them hardy. A good thing too, as his is a story of a sportsman whose international days had gone.
He made his test debut at Eden Park - once upon a time Auckland did host test cricket - in 2001.
But Misbah didn't grasp his opportunity. He was out of favour for three years from 2004. Then, when he battled in Australia early last year and was dropped, he seemed gone for good.
Instead, Misbah won a recall for the series against South Africa in Dubai in November. And as captain too. Strange are the ways of Pakistani cricket.
But he was a senior figure at a time of considerable stress in the national side, a calm presence whose unflappable off-field demeanour can sometimes hint at a man woken in the middle of a long sleep.
Excitable is not the first adjective to leap to mind. Unruffled fits better.
Misbah scored 9, 76 not out, 77 and 58 not out in the two drawn tests against the South Africans. Put those together with his New Zealand test return and Misbah has hit 451 runs at 112.75.
Unwanted in the one-day team for a year until last October, Misbah is averaging 40.27 with 11 fifties from 62 games overall.
He puts his return to form and favour down, in part, to feeling good about himself and his game.
"Cricket is all about confidence and at the moment the confidence is high. That is why I am performing well and scoring runs," he said.
But it raises the question: might he be in the best form of his life at a relatively advanced age?
"Yes. It's really a time when I've performed and it is really going well for me. A lot of things are behind that and I just want it to continue.
"I have confidence from the team management, and from the selectors, from the coach and captain (ODI skipper Shahid Afridi). That makes a big difference.
"There are few days in cricket like this so I'm really enjoying this form and I'm really enjoying New Zealand, I'm happy that my performances are doing a good job for the team," he said.
The identity of Pakistan's World Cup captain is due to be revealed late tonight (NZT). It's likely to be the flamboyant Afridi. Misbah is the only other candidate. He's got kudos from his test leadership and would do a capable job.
"I think the team has gelled really well and whoever is captain, everybody plays for the team, for the country.
"Shahid is doing a good job. We have no problems in the team whoever is captain."
Which just goes to show he's got a decent diplomatic skill or two to go with his determined approach at the crease.
The successes Pakistan have enjoyed on this tour owe much to the Misbah renaissance.