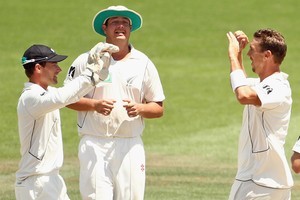 All eyes will be on the Basin Reserve pitch when the covers are stripped off on the first morning of the second cricket test between New Zealand and Pakistan tomorrow.
Both teams say they would welcome some pace and bounce, and it appears that is exactly what they will get as the tourists seek a rare series win and the hosts a series-levelling result following their 10-wicket defeat at Hamilton.
The first test pitch at Seddon Park was almost subcontinental in that it was slow, flat and largely lifeless, which suited Pakistan to a tee. The Basin Reserve, however, should offer more of a traditional New Zealand surface with a good covering of grass and some movement for the first few days.
"It looks pretty grassy. We wouldn't mind more sideways and bounce, it's good for us. It would be a good cricket wicket," New Zealand coach John Wright said yesterday.
While New Zealand are hoping for familiar conditions, Pakistan's bowlers would also relish them and likely pose even more problems to a fragile home lineup that could not keep the tourists at bay even on a flat deck.
"I think the conditions will be suitable for the seamers, not only for us but also for the New Zealanders as well," Pakistan quick Umar Gul said.
"But I think we have good fast bowlers, myself, I bowl 140kmh-plus and Wahab (Riaz) is bowling 145kmh-plus, so I think at the moment we are a bit faster.
"This is a very good chance for us to win a series."
Wright's task this week has been straightforward - to get his batsmen in a frame of mind to play test cricket. But after they were frivolous in the second innings of the Hamilton match in being bowled out for 110, that job may sound easier than it is.
If they could find away to survive, Wright believed they could threaten Pakistan and square the series.
"Provided we get the runs and apply ourselves, we'll out a lot of pressure on Pakistan," he said.
"It is what it is, test cricket, there's no excuses. We don't need any explanations, if you're picked as a batter your job is to get runs.
"It's about occupying the crease and not giving your wicket away, it's not rocket science."
Wright said some harsh words had been spoken after Hamilton and he was confident they had hit home, though he warned that change may take more than just a week.
"They're in the process of learning what it's like to play test cricket consistently," he said.
"You just have to be straightforward and honest. We're playing for New Zealand and representing the cricket fans here so we don't want to short-change them.
"It will take a bit of time but I hope the public keep the faith and we've got to repay that."
- NZPA