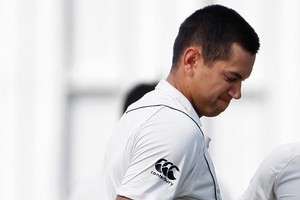 Weighty matters are afflicting the cricket world right now.
But slipping by this week, almost beneath the radar, was another abject disappointment from a New Zealand team at the Champions League in South Africa.
Otago were New Zealand's inaugural entrants in India last year. They lost both their group games. Central Districts went this time shorn of two of their biggest players, Ross Taylor and Jacob Oram.
Taylor's IPL franchise the Royal Challengers Bangalore had first dibs on his services. They play a semifinal against Chennai Super Kings early today. Allrounder Oram was injured.
The result was four demoralising defeats in different fashions.
CD were in winnable positions against Chennai and Victoria and transformed what should have been a winning 175 for three against the South African Warriors into an awful beating, by six wickets with five balls to spare.
In what should have been the final face-saving game, chasing only 144 for six against the Sri Lankan side Wayamba, CD tumbled to 16 for five, all out 70.
CD needed runs from their three key batsmen, captain Jamie How, Mathew Sinclair and Peter Ingram.
How obliged with two muscular and rapid contributions, but Sinclair got just 30 runs in his four innings - including being stumped off a wide first ball - while Ingram managed eight runs from 18 balls.
The bowling was generally handy, but it's a three-part game and their fielding was up and down too.
So New Zealand are now, collectively, 0-from-6 at the Champions League.
It might not sound a big deal. After all, it's not international cricket, it's not even the heavily-hyped IPL.
But New Zealand need to watch out. When the people who make these decisions gather, they may well wonder at the merit of inviting representatives of a country which makes such a small impact.
Lack of impact is a charge which could never be directed at the Pakistan team. A combustive quality has never been far from its national side, in good times and bad. Players are forever falling in and out of love with their teammates, often, but not always, down to the great Lahore-Karachi divide.
Upon arrival in 1995 one senior player told a New Zealand reporter - on the record - that the reason they had just won the third test in Australia after losing the first two was "because at last we chose the right wicketkeeper". Bang, take that Moin Khan. One keeper was from his part of Pakistan, the other was not.
The stench around the just-ended tour of England puts it in the all-time final of least-pleasant tours.
The Bodyline Ashes series of 1932-33 is held up as the most contentious of the lot, but that was down essentially to on-field activities.
The Mike Gatting-Shakoor Rana finger-jabbing England tour of Pakistan in 1987 is up there; India's acrimonious series in Australia a couple of summers ago is also worthy of a dishonourable mention.
This latest series has brought spot fixing into the cricket lexicon, as distinct from the broad and generations-old match fixing.
Accusations went back and forth; players engaged in a hand-on-throat confrontation at Lord's, of all places.
Pakistan's erratic boss Ijaz Butt launched so-far groundless allegations of English players being in bed with bookmakers; outraged England players threatened to sue; and refused to shake hands with their opponents after one ODI at The Oval.
What a mess. And they're coming here in December-January.
Forget the idea that another country might be come as a replacement. Unless the ICC do the unlikely and throw Pakistan out of the game for a cooling-off period, they'll be here from Boxing Day.
The quality of the cricket is one thing; just don't expect the tour to be dull.