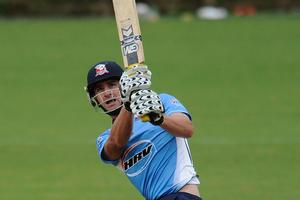 The trend of southern African cricketers making the transition into the New Zealand ranks looks set to continue over the coming year as three more key players switch nationalities.
Former South African first-class representative Kruger van Wyk (30) is now eligible for the Black Caps and looks poised to have a crack at making the test side as a wicketkeeper, provided he can force his way into the Central Districts line-up ahead of veteran Bevan Griggs.
Former Zimbabwe under-19 and now Auckland all-rounder Colin de Grandhomme (23) will be cleared to play by the start of this season while left-arm pace bowler Neil Wagner (24) will have fulfilled his residency qualifications by the end of the season after playing provincially in South Africa and having a couple of stints as the Proteas' 12th man.
New Zealand Cricket (NZC) sees international futures, particularly for the latter pair after they were named for the second straight year in the New Zealand A team in the emerging players tournament in Queensland next month against development sides from Australia, South Africa and India.
De Grandhomme is viewed as one of the hardest-hitting batsmen in the game and bowls lively right-arm fast-medium, using his height to good effect. Wagner is touted as a potential saviour with the ball, capable of delivering consistently in the mid-140km/h range and offering left-arm variety. Former Zimbabwean cricketer and now Auckland coach Paul Strang can see the trend continuing, based on the trio's background.
"There's a lot of good about New Zealand; that's why we're here. But Africa prepares you better for life in some ways. More self-sufficiency can be required, especially in Zimbabwe where you're coming largely from a third world environment. People help but you've got to find answers yourself. In contrast, New Zealand has a lot of support with its coaching structures where you are looked after, whatever way you turn."
Grant Elliott was a pioneer when he made his test debut for the Black Caps back in 2008 after growing up and playing his earlier first class years in Johannesburg. Wagner intends to follow a similar course.
"I wasn't enjoying my cricket in South Africa," he says. "The opportunities weren't there because of the quota system and the politics. I wanted to play at the highest level because of my ability, not my skin colour or who I knew.
"I had the chance to play English county cricket [for Sussex] but the ultimate was playing internationally. The money would have been better but I wanted to play tests. I also want passionately to play for a country which is why New Zealand won through. I'm not a big fan of English sport."
De Grandhomme's father and grandfather played first class cricket in Zimbabwe but, given the sport's shaky status under the Robert Mugabe regime, he decided to move alone, aged 18.
"I didn't know what to do after school so I came to New Zealand for half a season in January 2005. When that finished, I knew I wanted to come again. Fortunately it has worked because nothing was guaranteed back home. I probably would have done a building or mechanic apprenticeship (De Grandhomme's father still runs the family hardware business in Harare). I've never really fancied writing essays."
De Grandhomme and Wagner join a New Zealand training camp within the next fortnight in Brisbane.