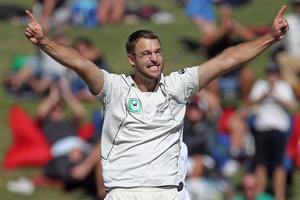 Daniel Vettori is considering an offer from county Surrey for the England domestic Twenty20 competition this year.
Vettori's manager Greg Dyer confirmed a contract is on the table but said that Surrey would get Vettori's services for only about two-thirds of the games with the tournament running from June 1 to August 14.
"New Zealand play their one-day series against Sri Lanka right in the middle of it [July]," says Dyer. "That will rule most of the Black Caps out for a period but they can look to play someone like Daniel for the start and the finish.
"He's also had expressions of interest from other counties [such as Essex] with figures attached, but it is up to them if they want to invest.
"The other thing to bear in mind is that Daniel's wife will give birth to their second baby at the end of July.
"Teams have got to be prepared to take a punt but how they afford players and whether they break up team unity is always a risk.
It's up to the CEO and the coach to decide if it's a good fit."
Vettori could be in esteemed company if he signs.
Surrey are also in talks with Brian Lara, who retired from international cricket after the 2007 World Cup. He hasn't played competitively for two years.
Of the Black Caps in the Indian Premier League, Ross Taylor is now a confirmed signing with Durham, who have been county champions the past two years. Given the Royal Challengers Bangalore's success to date in the IPL, a victorious campaign means Taylor may potentially qualify for four teams in the Champions League, having also played for Central Districts and Victoria.
Bangalore would get first dibs on his bat otherwise Central Districts will secure him. He's proving a desirable mercenary.
Meanwhile, Brendon McCullum is at Sussex after the Sri Lankan board objected to Tillakaratne Dishan's involvement. Shane Bond also received offers but opted out so he can return to his family and new baby after the Twenty20 World Cup.
Chris Martin has received a pleasant post-season surprise too. After toiling for little reward in the test series against Australia he has been recruited by Essex from next week until early May when Pakistani leg-spinner Danish Kaneria will resume his contract.
Dyer is working on other short-term deals for Martin Guptill (who is understood to have narrowly missed out on the IPL auction), Kyle Mills and Grant Elliott. They would go into county teams as injury cover but their chances of getting picked are slim because most teams will look for someone to last the whole competition.
KIWIS IN ENGLAND
Current or former Black Caps playing at English counties:
* Andre Adams - Nottinghamshire
* James Franklin - Gloucestershire
* Hamish Marshall - Gloucestershire
* Chris Martin - Essex
* Brendon McCullum - Sussex
* Iain O'Brien - Middlesex
* Ross Taylor - Durham