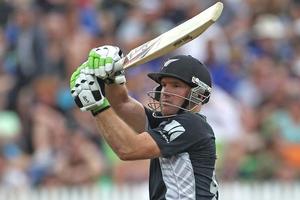 New Zealand's Chappell-Hadlee cricket series loss was bad enough, but also vexing is the fact the experiments trialled against Australia have generally raised more doubts than answers, less than a year out from the World Cup.
Last night's bolder showing with the pressure off aside, captain Daniel Vettori has bemoaned the injuries affecting selections. While that is fair enough, it is nothing new for the Black Caps. The selectors also chose to make three bold moves during the series against the world's best team - playing block-and-bash opener Peter Ingram, turning James Franklin into a No5 batsman and playing Gareth Hopkins at wicketkeeper while Brendon McCullum rested his back.
Of those selection gambits, only Hopkins could be said to have succeeded, although perhaps a qualified success. It now transpires the move was probably made with an eye to McCullum giving up the gloves in the near future and playing as a specialist batsman only.
Franklin hasn't repaid yet the faith shown in him as a middle-order bat rather than a bowler who can bat a bit. He went down the order from five to eight over the series and wasn't used with the ball in the fourth match until the 24th over of 34. On that evidence, his future in the team appears limited, averaging 18.70 with the bat and 38.79 with the ball in 75 one-dayers, despite superb form at domestic level.
Ingram, in spite of everything being written here, could well be named in the test team today as the selectors continue their efforts to ensure he has enough game time to assess him properly. They may well give him time at No 3 in tests, a position which remains their biggest conundrum.
Ingram's lack of footwork has been exposed by the extra Australian pace and guile. For many, BJ Watling is a better bet, even though the selectors obviously see him more of a test bat than a one-day player. He certainly needs more investigation, given his stellar form for Northern Districts in one-dayers, averaging 54 for the summer.
Hopkins rose to the challenge after strong Twenty20 displays and in the one-dayers. He is capable of working the ball around the ground and batting inventively. But while it was difficult to come in at 152 for 5 in the 30th over on Thursday at Eden Park, his comparative struggle to reach the boundary may count against him long-term. He could be a stop-gap measure in the middle order as young all-rounder Kane Williamson matures.
Williamson, with off-spinners to add to his batting prowess, adds more to the balance of the side. However, McCullum has said he will relinquish the gloves at some point (although he is expected to keep in the tests against Australia).
That strengthens Hopkins' case, but he is 33 already and it is a moot point whether McCullum's expected move will weaken the batting order. It is dead handy in depth terms to have a wicketkeeper who is also a crack batsman, like Australia's Adam Gilchrist and Brad Haddin.
Hopkins aside, there were some peculiar choices made and, admittedly with the advantage of hindsight, Watling could have been selected instead of Ingram and Styris instead of Franklin. How Styris didn't play the entire summer in the shorter form, given his domestic touch, remains hotly debated. Once he made the side, due to captain Daniel Vettori's bung neck, he proved a match-winning finisher at seven, yet had crept up the order to five by the latter one-dayers.
Conversely Neil Broom, who has also excelled domestically, will have to sort his act out quickly.
His average of 17.52 at a strike rate of 70 could be excused initially because of the daunting prospect of coming in as a finisher, but to have compiled just one 50 in 22 innings demands the microscope.
After his heroics in the winning eliminator over in the second Twenty20 win, Tim Southee had been trucked to all parts, averaging 110 with an economy rate of 6.66 runs per over before he performed strongly again last night. He's undoubtedly the future of the New Zealand pace attack but has often been burnt after coming into international cricket as a 19-year-old two years ago.
One reassurance of the selection process is that the same mistake hasn't been made with Williamson, who continues to get valuable domestic experience. Indications are he'll also debut before his 20th birthday on one of the mid-year tours, but at least he's been able to get a diet of regular first-class cricket over more than two seasons before being blooded. Some argue he is already the best player in the country off the back foot.
* * *
The Black Caps have had moments of individual brilliance in the series but struggled to sustain partnerships; be they of the batting or bowling variety. Australia had a couple of match-winning century stands - New Zealand didn't - yet Ross Taylor, McCullum, Styris and Vettori batted brutally well at times. Likewise with the ball, Shane Bond and Vettori produced some accomplished, testing spells, but the pressure was often released at the other end.
Those lapses have been compounded in the latter three one-dayers by a lack of on-field maturity in implementing the so-called "aggressive approach" game plan. Starting aggressively is one thing, not using all available overs is limp.
Such an approach can be admirable, especially early on when the likes of McCullum and Taylor accelerate, but it often needs to be tempered by consolidation, nurturing singles and turning over the strike.
This is hard to do against tight bowling, but when there is a 22-over gap between boundaries (from overs 18-39 in the fourth match) it's worthy of question. Hopkins did well in this phase, but the pressure saw the number of batsmen dismissed by being caught go up in each of the first four NZ innings - 4, 6, 7, 8.
In fact, 25 of the 38 overall dismissals had the ball being hit in the air.
Injury has also been a factor in the form slump, with at least a dozen potential starters tweaking, ripping or straining various parts of their anatomy over the season.
That has meant the Black Caps have missed countless chances to put out a fully-fit first XI in any form of the game.
While that has strength and conditioning professor John Cronin, trainer Bryan Stronach and physiotherapist Kate Stalker earning their keep on the payroll, it is far from optimum and seems to occur every season. Fans are not witnessing the talent they might do. There's talk a new system of prevention is in place, but physical on-field evidence would be preferable next season.
* * *
The good news for Kiwi fans is that there is a core of indispensable talent that could excel 12 months from now at the World Cup in India, Sri Lanka and Bangladesh.
Vettori continues to juggle his varied responsibilities admirably. He's been a match-winner and a decision-maker who has barely had a blip in form.
McCullum has earned his right to bat at the top of the order, especially with a stable finisher like Styris lurking further down.
Few bowlers have avoided the meat of Taylor's blade, although his next step is to improve his one-day conversion rate. He reaches at least 50 every four innings, but only one in six of those innings see him go on to a century.
In addition, Guptill has been an inspired choice over the past year with his gift for timing, although he needs to avoid throwing his wicket away after getting starts. With the ball, Shane Bond remains the great hope for the sub-continent.
His pace and accuracy is a must in what could well be his swansong.
So a Black Caps World Cup squad could look like this, based on form and assuming all candidates are fit and available.
It is also assumed McCullum will not keep wickets unless in emergency: McCullum, Jesse Ryder, Guptill, Taylor, Oram (as a batsman), Williamson, Styris, Vettori, Kyle Mills, Bond, Southee, Watling, Hopkins and Daryl Tuffey. Not selected at this stage : Ingram, Aaron Redmond, Franklin, Broom, Ian Butler, Andy McKay, Chris Martin.