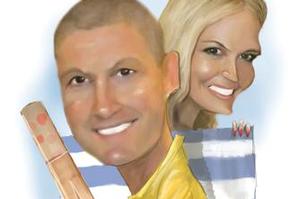 Forgive us for failing to shed a tear.
Australia's vice-captain Michael Clarke needs to come up with a better reason than the one being offered, by suggestion, for walking out on their cricket tour of New Zealand.
Clarke may be back, but was missing in Hamilton.
"[Clarke] is attending to personal matters and we ask on his behalf that his privacy be respected," said Aussie cricket boss Michael Brown, pampering the superstar.
The story so far - Clarke's slightly famous girlfriend Lara Bingle has had a photo of her topless (while exiting a shower) allegedly released by an extinguished flame of hers. A magazine published the photo.
The perpetrator, whoever that might be, is a toe rag we might all agree. (The former flame, AFL player Brendan Fevola, says the photo was on a discarded phone). But quit the tour? Come on.
If personal matters impinge on professional responsibilities like this, then sports stars will find it harder to retain any privacy.
Those of us who believe in defending what is left of famous people's private lives will have second thoughts if they start taking the mickey. A certain amount of trust is needed, and in this case might not be justified.
The punters and sponsors are being treated poorly here. As this is already a public matter, we could be told if the Bingle affair is not reason for his departure. Then we might leave the subject alone, and rely on that trust. Otherwise ...
You can understand that Bingle feels humiliated. That publications breach privacy like this is also disappointing. She is suing the ex-boyfriend.
But nothing life threatening is going on in this superstar moment, as far as we can make out. As embarrassed as Bingle is, this is hardly an overwhelming disaster.
Clarke, a team leader, has important and well paid responsibilities to his country, teammates and the sports fans of New Zealand. Battle on through, pal.
Would Clarke have quit an Ashes series, you also wonder.