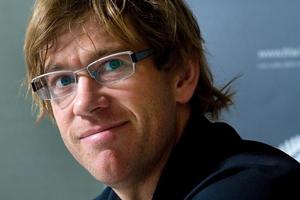 With Jacob Oram sustaining yet another injury, there's no better time to bring up that old debate about whether he should stop bowling.
He should.
Oram should hang up the bowling boots for good. He's consistently said he's an allrounder and would not be happy becoming a specialist batsman.
He likes to take a full part and his value in the Indian Premier League is also tied to his skill as an allrounder.
However, if he continues to go the way he is, his desire to be an allrounder will diminish his all-round skills, as he takes far from a full part in games.
He has retired from test cricket to reduce his workload so he can play as an allrounder in the short forms but here he is - injured again.
However, this is not where I see his problems.
The main concern I have is that Oram's talent is being wasted the way he is being played in the national side in both Twenty20 and one day internationals.
Oram is batting low in the order. Presumably this is to try to use his hitting power in the second half of a Twenty20 game or the ODI batting power play that is invariably late in the innings.
There are problems with this. Oram is more than a hitter, he is a batsman, and often takes a little time to get himself in before we see the best of his destructive powers.
This is why some of his more memorable innings have come in hopeless situations.
He is also not getting an opportunity to showcase his skills or make an impact with the bat.
In the last two Twenty20s, he has come to the wicket in the 16th over. This is essentially making him a bowler.
That's fine because Oram is a handy bowler but I will not stretch past 'handy'.
He is on the other side of the hill when it comes to his bowling and I don't expect it to get better.
His bowling will never be considered world-class but, when he finds form with the bat, he can be a high-class performer.
However, how is he going to find form, or make contributions big enough to be rated as world-class batting where he is?
Oram's desire to remain an allrounder and the current Black Cap strategy for him is reducing him to an okay bowler who bats a bit. That's a huge waste.
I would like him to take the punt now, quit the bowling, and earn his place in all forms as a specialist and come to the party again.
If he's worried about his value as a cricketer, I'd suggest playing long innings, blasting sixes and man-of-the-match recognition against quality opposition. Then his stocks will be back up to where they deserve to be.