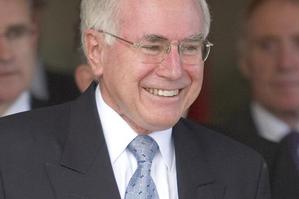 Think back to the rugby World Cup final of 2003 in Sydney.
England beat the hosts courtesy of Jonny Wilkinson's late dropped goal.
Remember the medal presentation and the churlish attitude of the bloke handing out the gongs?
Some of the English players at the finest moment of their careers had medallions tossed at them with a distinct lack of respect.
Nice job John Howard, former Prime Minister of Australia, and the man poised to take the highest seat in cricket having been nominated jointly by Cricket Australia and New Zealand Cricket.
Howard was nominated ahead of past NZC chairman and prominent businessman Sir John Anderson. He will - assuming his nomination is approved by the International Cricket Council in June - become deputy president for two years, and in 2012 will replace India's Sharad Pawar as president.
Under the ICC rotation policy, it was Australia and New Zealand's turn to find a president.
This is not a bleat that a New Zealander did not get the gig, more wonderment that someone with absolutely no cricket experience did. How could CA not find someone more suited to the job than a politician?
The die was effectively cast when CA and NZC could not agree on a nomination, so formed a panel of two representatives apiece, chaired by Australian businessman Sir Rod Eddington. You do the maths.
The nomination was expected to have been made weeks ago but there was a significant gap between two viewpoints.
Yesterday's joint statement from CA chairman Jack Clarke and NZC counterpart Alan Isaac talked of "an exhaustive process ... an extremely difficult decision".
Howard's name came up because CA couldn't find a suitable candidate from within its cricket ranks. His only link with the game is as a fan, or a "cricket tragic" as he is wont to call himself.
But he likes watching cricket, which is nice, and he'll get plenty of opportunities for that.
What happened behind closed doors? Australian heavying? Sweeteners for NZC in whatever shape? Or was it simply that there was no way three Australians were going to allow someone from this side of the drink to ascend to the presidency ahead of one of their own, no matter his credentials.
What would the world game make of one of its powerhouses being unable to find anyone capable of doing the job? Try finding an Australian involved in the game who genuinely thinks Howard is best man for the job. It's not as easy as you might imagine.