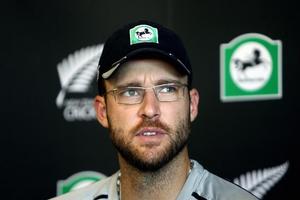 New Zealand captain Dan Vettori admitted last night a large part of his present thinking revolves round preparations for the world Twenty20 tournament.
At the same time, he is aware conventional wisdom has it that the mind should be focusing primarily on the job at hand, in this case preparing for the last two ODIs against Bangladesh, at University Oval today and in Christchurch on Thursday.
Vettori doesn't want it to sound disrespectful to their opponents, who have been well off the pace in their two tour games, a 10-wicket loss in the Twenty20 international in Hamilton last week and the 146-run flogging in the first ODI in Napier last Friday night.
But given the disparity between the teams, it's understandable his mind might wander to harder challenges.
"It is at the forefront of my mind," Vettori said of the tournament in the Caribbean starting on April 30.
"Hopefully I can balance the two, playing international cricket and preparing for a major tournament."
With his national selector's hat on, Vettori confirmed he and fellow panellists Mark Greatbatch and Glenn Turner have a clear idea of whom they want in the Caribbean.
"We've got a squad of 20 in our heads and it's tough to whittle that down to 15, particularly when guys come off injuries. But the more players can put their hand up and question us that has to be good."
Australia arrive in a fortnight and they are sure to ask far more questions of those contenders than the Bangladeshis, but for now, Vettori wants his players to maintain their standards.
"There's a series win and we need to finish that off," he said. "There are high expectations from ourselves, as well as everyone else around, to make sure our performances are of a particular standard. So far we've been able to meet those."
The New Zealand team includes several players with various points to make in the next couple of games. Take new caps Peter Ingram and Andy McKay, both of whom had success in the win at Napier.
Opener Ingram banged a rapid 69, left armer McKay took a couple of wickets. Neither is in the first flush of youth, aged 31 and 29 respectively. But that's not a negative in terms of time running out before they've barely begun in the international game, says Vettori.
"Hopefully we can see another four or five years of them. They've got potential to have pretty sound international careers with a bit of longevity. Once you get to that age where you really understand your game it makes it easier taking the step up."
Then there's James Franklin, out for two in Napier, not required with the ball, and the clock ticking on what he could bring to the bigger campaigns to follow.
Not to forget Neil Broom, whose 71 last Friday was his first ODI half-century in 18 games. Vettori said the selectors had settled on his best role within the side.
In short, it's to produce more of the same from Napier. Ian Butler will get his first game of the tour today, with either Daryl Tuffey or Tim Southee sitting out in a rotation plan for the fast-medium trio.
Bangladesh captain Shakib al Hasan was asked yesterday whether his team's batting or bowling was giving him more cause for concern. "A combination of both," the highly regarded allrounder replied.
Fair enough too, and Dunedin doesn't appeal as the place they'll break their duck on this tour.

Second ODI:
* New Zealand v Bangladesh.
* University Oval, Dunedin.
* 11.30am, Sky Sport One.
* New Zealand: (From) Dan Vettori (c), Peter Ingram, Brendon McCullum, Martin Guptill, Ross Taylor, James Franklin, Neil Broom, Jacob Oram, Tim Southee, Ian Butler, Daryl Tuffey, Andy McKay.
* Bangladesh: (From) Shakib al Hasan (c), Tamim Iqbal, Imrul Kayes, Mohammad Ashraful, Raqibul Hasan, Mahmudullah, Aftab Ahmed, Mushfiqur Rahim, Naeem Islam, Shahadat Hossain, Abdur Razzak, Nazmul Hossain, Shafiul Islam, Rubel Hossain.