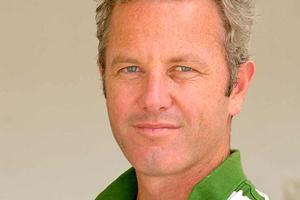 Peter Ingram has no second chances and that's the beauty of selecting someone in their thirties.
If he can take his chance, then there's no reason he can't play for four or more years. But he will not be given the luxury of a slow start.
Thirty-one is fairly old to be making your debut but there are plenty of examples of players being given a chance later in life and making a good fist of it.
Michael Hussey was 29 and I played for only four years and yet that was deemed a useful career.
As an older player, you have a few things to your advantage. The most important is you know your game pretty well by the stage you get to test it at the international level but, on the flip side, you are unlikely to be able to change that game should you be found wanting.
Possibly just as important is the knowledge that this is your only chance.
International cricket is hard and you are made to feel uncomfortable but if you are strong enough and, as an older player you should be relatively hardened, the desperation that comes from waiting your turn should help you succeed and succeed consistently.
It's not fun feeling you're constantly playing for your place but that's how it is and if you can cut it then you are the right sort of player mentally to be playing internationally.
So is Ingram good enough to stand the test?
Mentally, I like what I see in him because of the way he has developed an unusual style and stuck with it because of the success he has enjoyed over the last few years.
As for that technique, I just don't know. It's too easy to look at a player and say he will get found out at test level because he is not text book.
Allan Lamb, Kepler Wessels, Derrick Randle, even Brian Lara, were not exactly text book.
It's said cricket is 90 per cent mental at the top level. So if it's only 10 per cent technical, then so what if Ingram's footwork is not the norm and he trades off a huge backlift and leverage.
What I do know is that if his stand and whack-it approach works, then he is going to be very exciting to watch.
His selection is also a vote of badly needed confidence in our provincial competition. It would have been easy to look for an up-and-comer but where are they?
You can't argue with Ingram's volume of runs and, if he does hang around a bit, it gives the Black Caps time to let a young player emerge.