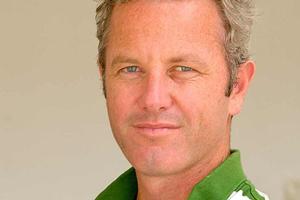 I like what I'm seeing of late when it comes to the Black Caps. Over the last year or so, they have not achieved the results they should be but I like the way they are endeavouring to turn things around.
It would appear someone has said enough is enough. Enough with the mediocrity emanating from players protecting reputations that suggest they're more than the results they achieve; enough with the support players who never rise above our questionable level of provincial play; enough of the performances that have conditioned the public to expect meek surrender.
It would also appear that the decision on how to turn our team from world cricket also-rans to world class has come in the form of attention to detail in preparation. Planning and scouting is nothing new to the way the Black Caps operate but of late they seem to have taken it to a new level.
Perhaps right now our players cannot expect to be the best in the world but there is no reason they can't lead the world in the way they prepare.
The evidence suggests they are aiming to do just so. Funds are being utilised to tap into the knowledge of past performers and that is not just in the usual form of previous New Zealand players.
Saqlain Mushtaq, the Pakistan godfather of finger-spin variation, is helping with reading and playing the much-vaunted doosra and even a lad from Kent, who apparently mimics the massive threat of Muttaih Muralitharan, has been shipped in from England.
I was honoured to be asked to help with formulating game plans to combat the Sri Lankan threat and spent a good chunk of time with the team's video analyst. I've basically told them to "block the proverbial out of it".
I know damned well this won't happen but I am serious about our current crop of attack-minded batsmen improving defensive techniques in an effort to score more runs.
Our team is quite adept at scoring 350 but not often does 350 get you into a dominant position in a test match these days. The missing 150 runs we need more often can only be gained through batting longer and batting longer relies on solid foundations. That foundation is one's defensive ability because, if a batsman trusts his defence, he can play in a sustainable fashion.
This is never more pertinent then when playing in Sri Lanka against their current bowling attack. No one has ever really dominated or nullified Murali by attacking him. While it will be important to be positive against the others of lesser class in the Sri Lankan bowling unit, there must be an acknowledgment that, over five sessions of batting, these bowlers will enjoy times of dominance.
Then there is the unknown threat of Ajantha Mendis and the known but unconquered Lasith Malinga. Both these players will make you question your ability to remain at the crease.
If that happens, our current players are most likely to lash out in a fashion unlikely to last for long.