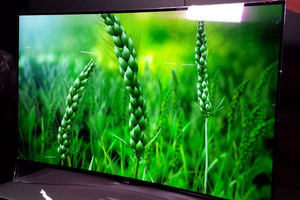 After decades of bulky and heavy tube TVs things took a definite hi-tech turn as flatscreen LCD and plasma TVs began to gain critical mass. Since then about the only real innovation we've seen has involved bigger screens and shrinking costs.
In what can only be described as a breath of fresh technology, I got to spend some time with LG's Curved OLED TV. OLED technologies make for a pretty compelling TV experience and work by electrical current being passed through a biological substance that glows when energised. Because of this, OLED TVs have off the chart contrast levels with deep inky dark blacks and vivid almost dazzling whites. On screen colours were also incredibly vibrant, and this was particularly noticeable with skin tones which didn't look too pink or Simpsons yellow. 1080p video was crisp and natural looking, which spoke volumes about the TV's THX certification.
Viewed side on, the screen curvature was immediately obvious as was its anorexic 4.3 mm thickness. Having reviewed my fair share of big screen TVs, I was also pleased to hear that this beastie weighed in at a chiropractor pleasing 17kg.
Initially sceptical of its curved design, I was pleased to note that glare from a window facing the screen was negligible and that in use, the curved screen managed to deliver an I-Max or cinema scope like experience. LG say that humans tend to have a curved field of vision, so adding a curve to the screen adds depth. From what I could see from their demo footage (playing off a USB stick), this was borne out. Donning a pair of passive 3D glasses I was also pleased to note that cross talk was almost non-existent and the 3D effect made using the screen more like looking out a window.
Last but by no means least the OLED panel also incorporates miracast and Widi, allowing you to stream content from a smartphone which looks to be a great way to share photos and videos shot on a phone. Its potential for gaming also looks pretty compelling.
I've yet to spend a significant amount of time with this telly, but so far the only real downside I can see is its sticker price which is estimated to be around the $17,000 mark.