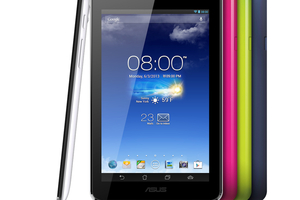 The avalanche of ever affordable Android gear continues unabated as specs and prices continue to both amaze and delight. Component maker Asus is the latest to enter the tablet fray with the Memo Pad HD7 which delivers some serious value for money.
Bangs & Bucks
Specs-wise, the Asus Memo Pad HD7 has the makings of a pretty decent piece of hardware. Sporting a 7" IPS display it is also powered by a quad-core 1.2GHz processor. The most standout spec however is its price.
Priced at just shy of $280, the HD7 is a pretty affordable 7" brand-name tablet, but there are a few caveats. Most notable is the lack of a 3G option, which for most home users isn't going to be a deal breaker as it'll most likely be used within Wi-Fi coverage at home or in the office.
Look & Feel
Features-wise, Asus has kept the user interface pretty clean and uncluttered, with only a few minor tweaks. The HD7 is available in a range of colourful designs with black, white, grey, bright pink and vivid green rear cover options available. The electric pink unit I reviewed had the added advantage of being both easy to spot and hard to lose.
Asus have managed to make the Memo pad HD7's design both understated and attractive. It's a budget tablet but in use doesn't feel cheap. Unlike a lot of the no-brand budget tablets I've played with, the HD7's chassis had minimal flex, was light yet also felt reassuringly solid.
This said, its 10.8mm waistline meant that the HD7 mightn't have made it the thinnest tablet I've ever laid my hands on, but little design tricks such as curved edges and its 302g weight, made it comfy to use for extended periods.
All ports and controls were also within reach - The HD7's 3.5mm headphone jack and USB port are located on its top, while a microSD card slot is on the left side. Volume controls and a power button are on its right hand side.
Specs and Features
The HD7's display (7" with a 1,280x800-pixel resolution at 216ppi), batted well above its budget sticker price. Not only was it sharp and vibrant, but it also sported the wide viewing angles you'd expect with an IPS panel, which in combination with solid backlighting meant it was pretty usable outside. Colours were also accurate and vibrant with solid contrast levels.
In terms of its camera, its 5-megapixel rear shooter and a 1.2-megapixel front camera were adequate but won't get shutter bugs excited. Shutter response felt sluggish, and under low light conditions, image quality was a tad washed out with some noise present. Daylight shooting however was passable for online image sharing.
Asus has thankfully kept the amount of cosmetic fluff on the HD7 to a sensible minimum. The one customisation that I did find useful was a floating quick access bar that let me keep frequently used apps within tapping distance Otherwise the HD7 was pretty much sported a generic Android UI and this was definitely a good thing. Asus seems to have sensibly put more focus on software side of things such as their rather nifty SuperNote Lite app, an Evernote like note-taking app, plus Asus Studio, a photo album creation app.
On the audio front The HD 7 comes with built in stereo speakers, and you can choose different audio profiles. These made quite a difference with headphones, but given the tiny size of the HD7's speakers I didn't see it resulting in any major audio improvements.
Performance
Even though the HD7 packs a quad-core 1.2GHz CPU, it lacked a muscular GPU and this was borne out with graphics heavy gaming with noticeable stutters and pauses sometimes happening. For basic internet use and multimedia however, the HD7 didn't miss a beat.
I also managed to get a pretty respectable 10 hours out of the HD7's 3,900mAh battery. Battery life mileage also varied depending on screen brightness settings and other factors such as leaving Wi-Fi/Bluetooth enabled.
Considering that the HD7 is available for just shy of $280 (at the time of writing, most retailers were listing a 16GB HD7 at $279.99), it offer some pretty solid bang per buck backed by a solid design, although its spec limit it to basic games, multimedia and surfing, email.
Tech Specs
RRP$ 279.99
Display: 7" IPS LCD (1,280 x 800, 216ppi)
Connectivity: 802.11b/g/n Wi-Fi, Bluetooth 4.0
RAM: 1GB
Ports: 1x microSD (up to 32Gb), 1x USB 2.0
Storage: 16GB
OS: Android 4.0
Dimensions: 196.8 x 120.6 x 10.8 mm, 302g