Thomas Oliver's love affair with his Weissenborn slide guitar has produced a pioneering work of a special kind, Scott Kara writes.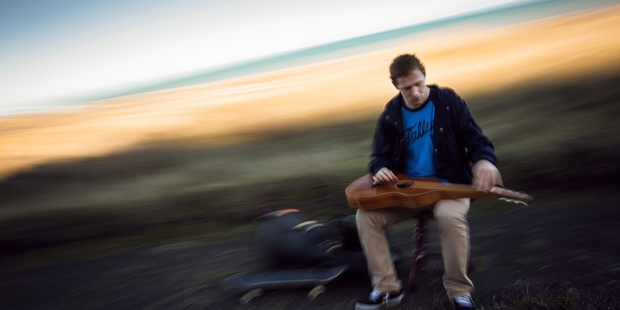 Thomas Oliver is thinking internationally - and he's taking on the world with just his trusty Weissenborn slide guitar.
The Wellington singer-songwriter is best known as the frontman of rootsy blues rockers the Thomas Oliver Band, as well as for doing guest vocals on some of the country's meanest drum'n' bass tunes by the likes of Concord Dawn and Trei. But in recent years he's been inseparable from his beloved Weissenborn guitar.
He got his first one a few years ago from Waikanae-based luthier Tony Francis, who also gifted one to Ben Harper - probably the world's best-known Weissenborn player - when he toured last year. Oliver was so taken with the instrument that he wrote an instrumental song entitled The Moment, a sparse and delicate piece that has hints of People Get Ready.
He recorded the song, put it on YouTube, and it soon notched up more than 100,000 views.
"That's what got me thinking that people really respond to this sort of music - and these were responses from all over the world," he says on the phone from Queenstown where he played two shows last weekend, followed by a spot of snowboarding on Sunday afternoon.
"It was a pretty good weekend all round, really," he says with a chuckle.
Following The Moment, he kept writing Weissenborn songs and eventually it grew into the album, Beneath the Weissenborn, which was released yesterday.
"It became more than just a collection of songs and that's when it got really enjoyable. And all day, every day,
"I would stay in and work at trying to get every sound I could out of the instrument. Trying to paint the most dynamic picture I could with the instrument."
Now his Weissenborn music has become his main focus and once he's finished a 20-date New Zealand tour, which starts in September, he heads overseas to play shows in Europe and the US.
"The good thing about it is that no one is really doing this with the Weissenborn, it's a niche thing, and so it kind of has potential to reach further.
"So I'm going to ride this as long as I possibly can, and it's really nice to take a step back from louder music and the drum 'n' bass thing and do intimate shows with simple, delicate music.
"It's taken me back to a place where I want music to touch people spiritually. A few years ago, I was in a place where I wanted to hit people really hard - like physically," he laughs. "But now I want everything to hit on a deeper, more emotional level."
He may say his Weissenborn sound is gentle and delicate but it's deep, stirring stuff, especially on a song such as the "colder, harder" yet catchy These Streets Were Clean.
He believes Beneath the Weissenborn is a pioneering work, in that it takes the possibilities of what you can do with the guitar to new heights.
"It's certainly the most harmonically complex piece of music I've ever seen played on a Weissenborn - and I've had so much feedback from players from around the world saying, 'I had no idea you could do that and make it sound that big'. It's a very unexplored instrument, I believe."
He likens the instrument to the human voice because although a piano or a conventional guitar have specific notes, the range and scope of the Weissenborn is "infinite". "It sounds like a guitar, but it's so much deeper and richer. It's an enchanting instrument and it's very real. It's imperfect, I guess."
During the recording of the album he discovered ways of using the instrument to create new sounds, and explored the guitar "to create a sound to take the place of an instrument I may have used in the song".
He came up with ways of mimicking an organ sound and many other "textural colours", like those found on his cover of composer John Williams' Jurassic Park Theme with its almost harpsichord-like effect.
The movie theme might seem an odd choice for the album but the dinosaur film soundtrack is Oliver's favourite from childhood.
"I've had that soundtrack stuck in my head for 20 years. And I did it initially for my own enjoyment because I was working on the album and I was very much in Weissenborn land, and I thought, 'I wonder if [Jurassic Park] would work on the Weissenborn?' It sounded cool and I started to look inside the tune and work out all the harmony, and I learned so much about the instrument through just having to work out such a complex piece of music.
"It's a funny thing, though, because there is this novelty factor about it because it's dinosaur music, but take away the dinosaurs and then it's just a magical piece of music. And it's my favourite film score and my favourite instrument, so I just couldn't help putting them together."
Who: Thomas Oliver
What: Singer-songwriter and Weissenborn guitar maestro
New album: Beneath the Weissenborn, out now.
On tour: Starts at St Peter's Hall, Paekakariki, Sept 21, and includes Biddy Mulligans, Hamilton, Sept 26; Wine Cellar, Auckland, Sept 28; Leigh Sawmill, Sept 29; Major Toms, Tauranga, Oct 2.
For full tour dates and tickets: dashtickets.co.nz
Follow @nzherald_ent on Twitter for all the latest entertainment news.
- TimeOut