Song-charting service shares users' favourites and takes a cut on iTunes sales.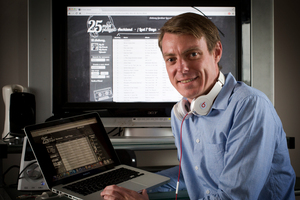 An Auckland social media specialist is eyeing global expansion for his newly launched, web-based "music discovery service".
Anthony Gardiner's 25 Most Played, which came out of software testing a few weeks ago, amalgamates members' 25 most played lists from Apple iTunes and merges that information with Facebook data to create customised music charts for various groups of people.
It shows, for example, the most played songs of website members who have also "liked" the nzherald.co.nz Facebook page.
That list includes tracks by punk group NOFX and hip hop artist Public Enemy, but as 25 Most Played only has 120 members so far it will probably take some time before it can be relied upon as a barometer for the musical preferences of nzherald.co.nz Facebook fans.
Users can also display their personal most played lists on the website.
Songs can be purchased from iTunes via 25 Most Played, which takes a 5 per cent cut on those sales.
Gardiner, a social media strategist at communications agency OMD, has funded the start-up on his own, but said he was looking to bring investors on board before expanding the business internationally, including to the United States - the world's biggest iTunes market.
"There's 130 million iTunes transactions done every month [globally] so if we can get 1 per cent of that market ... I'd be smiling a lot more."
Gardiner said iTunes' own 25 most played lists gave a real insight into people's personalities.
"In social media there's a lot of claimed behaviour versus actual behaviour," he said.
Gardiner said Facebook users tended to "like" things that expressed an image of how they wanted to be viewed by others.
"Your 25 most played songs is something you cannot lie about - it's a really interesting insight," he said.
Gardiner said he initially wanted to set up a system he and his friends could use to share their top played lists, but the project has since expanded into a business.
"Currently it's just making a handful of dollars every month, which I think is not too bad for a start-up with 120 users."
He said that in its next phase 25 Most Played would allow users to "check in" to venues such as bars and cafes.
"When you check in, that venue's computer will know everybody's favourite music and will be able to automatically play music tailored for the people who are there," Gardiner said.
"When we get to that point it will be a subscription service that the venues pay for - that's the eventual [business] model."
He admitted that some people might be self-conscious about publicly sharing their musical preferences.
"One of my friends is a DJ on a very popular radio station with a certain image - I won't name any names - and he said it was a great service but there was no way he would join because he's actually a Katy Perry fan and doesn't want anybody to know," he said. "There will be a certain segment of people who won't join up because they're embarrassed about what they listen to."
On the web