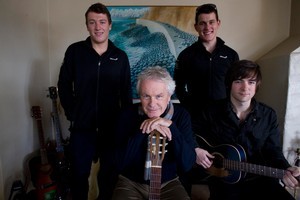 New Zealand officials are hoping to relax the tight grip on athletes' movements experienced in Delhi last year for the London Olympics next July-August.
At the Commonwealth Games last October, athletes were largely confined to the village, training and competition venues through security concerns.
New Zealand team chef de mission Dave Currie, who leaves for London today, hopes that won't be the case next year, but acknowledged security and the threat of terror attacks is inevitably high on the planning agenda.
"It's an ironic situation," he said yesterday. "The threat level in London is probably higher than in Delhi, certainly no less.
"But my sense is that [the tight rein on athletes] won't be the situation in London.
"We know what happened in Norway over the last few days. The potential for those sorts of things is always a concern."
However, Currie pointed out that with about 150,000 New Zealanders thought to be in Britain, athletes will want to get together with any friends and family there.
At this stage he envisaged athletes, once they had finished their competitions, would have more freedom of movement than in Delhi.
Currie, who will be accompanied by New Zealand Olympic Committee athletes services director Jake Wilkins on the two-week trip, has a chefs de mission conference at which he hopes to get a clearer indication of accommodation plans for the New Zealand team from the Games organising committee Locog.
Currie's trip coincides with a range of Olympic venue test events and he's particularly keen to get to Weymouth for the sailing regatta, to Eton Dorney, which will host the rowing regatta, and to the world series triathlon qualifying event in Hyde Park.
Weymouth is about three and a half hours by train from London.
So Currie is keen to ensure sailors have the necessary support systems on site and still feel part of the New Zealand team.
"The key for us over the next little while is to understand what the sports and athletes need and make sure we deliver on that at games time," Currie said.
On his last visit about three months ago, he was impressed by how prepared Locog was, calling it "the most organised I've experienced in the time I've been involved [six Commonwealth and Olympic Games including London]".
With the one year countdown starting today, New Zealanders are being asked to vote for their favourite Olympic team song in the Anthem in Black songwriting competition.
Entries can be downloaded from NZ2012.com and votes posted online.
"Knowing the songs have been written especially for us makes us realise there's everyone at home backing us," said three-time world junior cycling champion and games contender Sam Webster yesterday.
Round two of the competition runs from August to November with a final stage of public voting in the new year.
An online poll by NZOC showed respondents' favourite Olympic uniform was that of Athens 2004, which featured a white fern reminiscent of a Greek laurel wreath.
It headed off those of Rome 1960, Seoul 1988 and London in 1948.