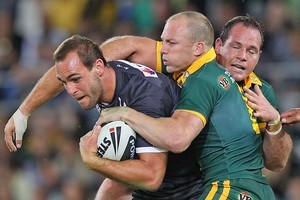 Rugby league and cricket have edged closer towards inclusion at the Commonwealth Games.
Rugby league was recognised by the Commonwealth Games Federation (CGF) executive board yesterday in its quadrennial review of the sports program.
Sports review committee chairman Tunku Imran also declared that the CGF wanted to have the Twenty20 version of cricket on its list of optional sports (which the host city can choose).
Imran said rugby league would join the sports "that we recognise as working towards future inclusion."
"We are very pleased to see the high level of commitment by the Rugby League International Federation to further develop the sport across the Commonwealth," he said.
The Rugby League International Federation is proposing to have either the sevens or nines version of the sport included in the list of optional sports in time for the 2018 Games.
The CGF will approach the International Cricket Council again to push for Twenty20 inclusion in future games.
Organisers of last year's Delhi Commonwealth Games were keen to include the sport but the powerful Indian cricket board rejected the idea, saying it did not want to further encourage this format of the game.
"It is fundamental that our sports programme continues to evolve in such a way as to sustain the Commonwealth Games as one of the world's leading multi-sport events," the CGF vice-president said.
"Given cricket's strong association with the Commonwealth, the CGF will have further dialogue with the ICC as to the possibility of 20/20 cricket being included as an option for future editions of the Games," Imran said.
Cricket made its Games debut in Kuala Lumpur in 1998 with a one-day competition. India sent a second-string squad to Malaysia and the sport was dropped from subsequent Games events.
The executive board has also recommended that beach volleyball be added to the list of optional sports (category two) for future Games, but that synchronised swimming and synchronised diving be removed from the program.
The CGF general assembly will ask its 71 member countries to vote on whether to include beach volleyball from the 2018 Games. It will vote on the proposals in November.
- HERALD ONLINE/AP