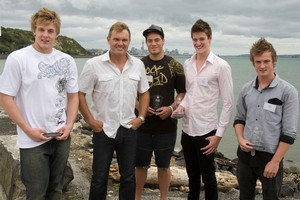 The next time this year's Herald Future Stars award winners are in the same room could be at a New Zealand Olympic Committee reception for the 2012 Olympics.
The Herald yesterday honoured six outstanding young achievers in the field of sport - five of them have their sights set firmly on attending the London Games.
The sixth is talented young golfer Cecilia Cho. Although her sport does not feature at the Olympic Games, she appears destined to become a household name.
Cho was unable to attend yesterday's awards ceremony as she was in Australia preparing for the Queen Sirikit Cup. Also missing was junior lightweight rowing medallist Julia Edward, who was named in the New Zealand under-23 rowing team yesterday.
But the remainder of the 2010 winners - Commonwealth Games boxer Joseph Parker, shot put star Jacko Gill, Wellington swimmer Gareth Kean and hockey player Hugo Inglis - appear destined to cross paths again.
Each of this year's winners will receive a grant of $1500 and a bag of sports products courtesy of the New Zealand Herald.
Parker, who was unlucky to miss out on a place in the semifinals of the Commonwealth Games last year, said the money will be handy as he chases his dream of fighting at the Olympics.
The young boxer's coach, Grant Arkell, took out a $4000 loan to help his promising student get to the World Youth Games in Azerbaijan last year, where he won a bronze medal.
Parker's parents have also sacrificed a great deal financially to ensure their son is given every opportunity to compete at key boxing events around the world.
"It's pretty tough to get the money to compete all over the world so I'm just thankful for all the support I get," said Parker.
This year also promises to be busy for Gill, who hopes to compete at both junior world events and make the step up to open level.
Gill, who at 15 became the youngest athlete to win gold at the world junior track and field meet - an honour previously held by the great Usain Bolt - is aiming to qualify for the senior world championships in South Korea later this year.
Former New Zealand cricket captain Martin Crowe, a Herald junior sports awards winner in 1980, was the guest speaker at the luncheon and was impressed with the focus and dedication of this year's winners.
He encouraged the young sports stars to chase their dreams.
"The biggest thing for me is you need to be decisive about what you want to do and set goals to get there," said Crowe.
"You can't rest mentally, you have to stay focused."