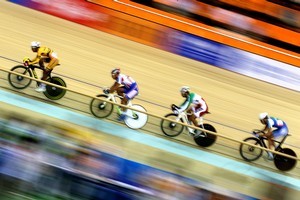 The Auckland Council is being asked for $19 million to back a bid for a world-standard indoor cycling track.
Sport and Recreation New Zealand is offering $7 million towards building a national cycling centre of excellence and Auckland sports bodies are jointly pitching for it.
So are other regional centres - Rotorua, Taupo, Waipa, Hastings, Manawatu, Wanganui and Christchurch.
The current Auckland velodrome, in Manukau, was built for the 1990 Commonwealth Games.
The outdoor track, with a chipping concrete surface, no longer meets top-class competitive cycling needs.
The Auckland Regional Physical Activity and Sport Strategy has flagged an Auckland interest in making a bid by the deadline of February 11 and believes the velodrome should be built at the Trusts Stadium in Henderson.
The bid had its first public airing yesterday at the council's Parks and Heritage Forum.
Project manager Jo Wiggins said council backing was essential if a bid was to be made.
A preliminary business case was formed by the Trusts Stadium, Cycling Auckland and the Millennium Institute of Sport and Health.
The total cost was estimated at $35 million, of which the Trusts Stadium would find up to $9 million.
Trusts chief executive Brian Blake said the addition of a velodrome would allow Auckland to benefit from holding events like the World Masters Games.
He said the stadium was running at near full capacity.
The proposed building would meet the needs of high-performance athletes.
"But it will have a full life, with the centre of the track providing courts for netball, basketball and touch turbo."
Cycling Auckland president John Coker said the velodrome must be available to all cycling disciplines at all levels.
"We know that elite cyclists will use it 20 per cent of a 12-hour day and track cycling at all levels will take it up to 80 per cent.
"We know once you have an indoor facility you can expect the number of participants to double.
"In early mornings and evenings, people who usually ride on the roads will come in and train out of the wet and cold and in safer circumstances."
The only velodrome capable of national events and training was in Invercargill, said Mr Coker.
"At the moment, national track squads sometimes don't go to Invercargill because of the cost and logistics of getting there.
"It's cheaper to assemble the team in an overseas location close to where they are competing because you don't get cheap airfares to Invercargill and planes that take all the equipment."
The forum can only make recommendations to the full council.
Forum chairwoman Sandra Coney said members were concerned at the financial implications and referred it to the strategy and finance committee.
It would decide whether to go ahead with developing the proposal after getting more information on the project's benefits and the impact on rates of supporting it.