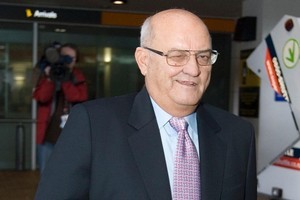 Jetsetting Owen Glenn has opened his wallet to shout a group of nine friends and staff a free trip to the Commonwealth Games.
The Monaco-based ex-pat Kiwi businessman and philanthropist, whose wealth was estimated at $1.1 billion in 2005, flew his three best mates and six of his staff to New Delhi to watch the Kiwi hockey team play.
They will also take in the athletics, boxing and artistic gymnastics before heading to Kalimpong in India's West Bengal state for a week to see what work the Glenn Family Foundation has been doing with the community there.
Glenn was reluctant to say how much he had spent on the trip.
His guests would be "well looked after".
Return flights from Auckland to New Delhi cost about $1800. Rooms in quality hotels in India's capital range from $300 to $1000 a night and tickets to the games cost between $2.99 and $29.99
The 70-year-old has taken Auckland hockey buddies Mal Gordon and John Anslow on the trip and Jimmy Kerr, whom he met while working at Harrods in London in 1961. Kerr is now the general manager of the Glenn Family Foundation.
Glenn, Anslow and Gordon met in 1956 while playing for the Albertian Hockey Club.
"It might have been some time ago, but the memories are very fond ones," Glenn said.
Anslow went on to represent New Zealand at two Olympic Games - Tokyo in 1964 and Mexico City in 1968.
Also on the trip are Saom Namchu, the general manager of the Glenn Family Foundation in India, Glenn's executive assistant Janelle Ladewig and personal assistant Kate Fryer, Dr Kim Chilman-Blair and her father Keith Glasgow.
Chilman-Blair is the mastermind behind the Medikidz comic book series, launched in New Zealand earlier this year. The books use superhero characters called Medikidz to tell sick children aged 10-15 what their illness is, what medication will do and what treatments it will involve.
-