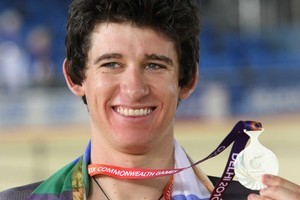 As Commonwealth Games silver medallist Jesse Sergent raced to a nail-biting finish in Delhi, his grandfather in Feilding felt as if he was riding the bike himself.
"I certainly felt a part of it," said Harold Sergent.
After supporting Jesse's cycling from as soon as he could get on a bike, Mr Sergent was filled with pride at seeing the 22-year-old's silver medal effort.
"It's absolutely great. The whole family are behind him 100 per cent," he said.
Jesse started riding when he was 3 or 4 years old, and his family took him to a velodrome when he was about 7.
He had trained almost every day since.
"He trained alone every day, rain or shine. The number of miles he rode after school, he probably could have rode to Auckland."
In Delhi this week, Jesse came second in the individual pursuit after a late surge that closed the gap with his Australian competitor to 0.3 seconds.
"He always went good and he never gives up - as you could see last night," Mr Sergent said.
Jesse's success has made worthwhile what has sometimes been a struggle because everything was expensive, Mr Sergent said.
"He was good as soon as he started, so of course we had to get him a better bike."
Mr Sergent, who builds Speedway motorbikes, fixed up an old bicycle Jesse's father rode, which lasted Jesse until he needed a bike with gears.
"If the competitors have got good equipment, then Jesse had to have it too."
Mr Sergent said he was particularly proud of how Jesse handles himself.
"He never said, I don't want to go. He decided what he wanted to do and we never heard him moan once," he said.
"He's pretty easy going, and he speaks really well too. It's absolutely marvellous."
Jesse spends most of his time training with Lance Armstrong's team in the United States, and Mr Sergent said his family missed him.
"It's not good to have him away all the time. His dad misses him, big time."
But Jesse comes home as much as he can - especially with his girlfriend living in Feilding
His success could be a real boost for the town, which this year has had a string of tragedies, including two murders and a plane crash, Mr Sergent said.
"Feilding has had a lot of disasters, really. This is good, this part. People probably haven't heard of Feilding except to have bad things said about the town."
While Jesse's parents and girlfriend have travelled with him to Delhi, Mr Sergent decided to stay at home in Feilding.
He said he was as nervous and excited watching television as if he was competing himself.