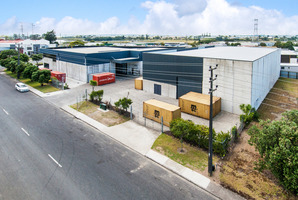 An industrial centre leased to NZX-listed Delegats Wine Estates in the tightly held West Auckland industrial precinct of Glendene is up for auction.
The property at 4 and 6 Akatea Rd has 2472sq m of modern industrial buildings on 4314sq m of land in two titles on the corner with Bancroft Crescent. It is being marketed by Dave Stanley and Ben Bayley of Bayleys Manukau and Mike Adams of Bayleys Auckland and will go under the hammer in Bayleys' central Auckland auction rooms on April 16.
There are two separate warehouses of tilt-slab construction. One is 1260sq m with a stud height of 7m and the other 1212sq m of clear-span space with a 9m stud height and a canopy. Each building is on a separate title with 4 Akatea St having a site area of 2476sq m, with additional access off Bancroft Crescent while 6 Akatea St occupying 1838sq m of land.
"Delegats leases both buildings and occupies the entire property, which is security fenced and gated and has good facilities for loading and unloading large containers," Stanley says.
"They are about 400m from a Delegats' bottling plant and are used as a storage facility."
The leases run for five years from July 2013, with one three-year right of renewal and two-yearly rent reviews, and are producing a total annual rental income of $181,400.
Ben Bayley says the property is being auctioned as one lot but a new owner would have the flexibility of being able to divide it into two tenancies at the expiry of Delegats' lease and also have the option of reselling the buildings and their titles individually. "So there are some add-value possibilities further down the track for a long-term investor," Bayley says.
Delegats, established in 1947, is one of New Zealand's largest wine companies. In its last financial year the company recorded global case sales of 1.946 million generating revenues of $222 million and an operating net profit after tax of $26.3 million.
It has vineyards in Marlborough and Hawkes Bay and last year acquired the Barossa Valley Estate vineyard in South Australia. It has focused on the premium export end of the market with its Oyster Bay brand continuing to achieve strong sales growth internationally, with sales to North America up 25 per cent to 670,000 cases in its June 2013 year.
Adams says Glendene has a small industrial precinct which consists predominantly of properties located between Akatea St and Bancroft Crescent, a long circular street which loops into Akatea St further east.
The location is about 10 minutes from the Te Atatu Rd interchange with State Highway 6 and a further 10 minutes from the Auckland CBD in non-peak traffic.
Adams says property in the Glendene industrial precinct is tightly held and it's not often that an opportunity such as this arises.