Milford developer argues 64m-high apartment blocks appropriate for prime location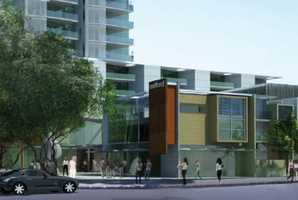 The spectre of more than 500 people living in a cluster of towers rising up to 16 levels around the North Shore's Milford Mall has dismayed an opponent.
William McCandless, a Milford resident since the 1950s, told the Environment Court on Tuesday that he was "gobsmacked" developer Milford Centre would propose 64m-high towers when the height trigger was only 11m.
"I am not comfortable with 500-plus new residents living on the same site as the shopping mall that is closed at night and in a town where there is no entertainment, sports fields, infrastructure or a police station to police them," he said.
Bronwyn Carruthers for Milford Centre told the court the suburb was identified as a prime location for intensification, developing 250 units was appropriate and negative effects could be managed.
Building heights were one of the main issues but the Auckland Plan anticipated significant changes in Milford as well as about 30 other town centres around the region, she said.
"While the predominant form of new housing in town centres is anticipated to be low-rise and medium-rise apartments, terraced housing and town houses, there is a clear acknowledgement that high-rise apartments of nine-plus storeys may be appropriate in some areas identified for significant change," she said.
Mr McCandless said the apartment scheme contained nothing for the community and potential adverse effects were plainly obvious and would be significant.
Milford Centre is appealing against Auckland Council's rejection of its plan.
Mr McCandless said if surrounding shore suburbs had many two- and three-level apartment buildings, he might be convinced of the need to go higher at Milford. But until then he could not see the need for such tall towers on the site.
"I definitely do not support the huge quantum leap to five, eight, 12 and 16-storey as proposed by this plan change," he said, raising concerns about wind effects on houses nearby, the spectre of flooding and aesthetic issues.
"There will be significant adverse effects. Good Lord, it is 16, 12, eight and five-storey buildings crammed on to one allotment. You can't screen such buildings out with 64m shrubs. Visible is visible as far as I am concerned, no matter what design it is," he said, challenging the very concept of intensifying Milford, which he described as a flawed strategy.
"There are other ways of preventing traffic congestion and carbon pollution without giving up our business land and airspace above it," he said, decrying residential uses for business land.
Once the area was rezoned, it was "gone for good" and so were the potential employment opportunities, he said.
"On the face of it, the appellant is asking this court for a free ride to unchallenged 16, 12, eight and five-storey high-rise construction."


Milford Centre plan
• 64m Height of proposed towers
• 250 Units would be built
• 500+Residents