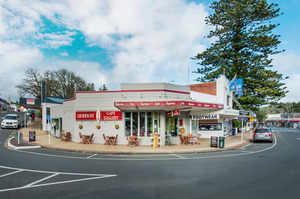 A popular central Warkworth cafe building that has been in the ownership of one family for over 60 years is up for sale for the first time since it was originally built to house one of the first women's fashion shops in the Rodney township.
Now the Queen Street Gallery Cafe, on a 105sq m site on the corner of Queen and Neville Sts, the property will go up for auction on October 23 as part of Bayleys' latest Greater Auckland portfolio. It is being marketed by Mike Adams and William Coates of Bayleys Auckland and Duncan Napier of Bayleys Warkworth office.
Adams says it is a very busy cafe, especially in summer when the township hosts thousands of passing motorists on their way to the popular coastal communities around Warkworth and further north.
"This building in particular benefits from significant exposure to high volumes of passing traffic because it is in a very central, high profile location covering a corner site."
It was one of the few remaining vacant pieces of commercial land in Warkworth in 1950, when the site was bought by Arthur and Jean Shallard from well known local kauri bushman and photographer Tudor Collins.
The Shallards bought the land to build a fashion shop for Jean to run. Salon Sandra was opened the following year to service the town, which back then had barely 1000 residents, along with a more extensive surrounding farming community. The shop was the first of three new retail outlets built on the corner site.
Jean Shallard ran her fashion and lingerie shop for about 15 years and then the business was sold but the premises were retained as an investment. Adams says that even in the 1950s, commercial property in Warkworth was tightly held.
"The vendor's family report that the site was keenly sought after for some time by locals before being sold to the family for their mother's fashion shop because it was one of the last remaining available sites left in the town, and it is the same today.
"Warkworth has become an increasingly popular area for people wanting to live near the coast and Auckland and commercial investment and owner-occupier properties are tightly held."
More recently the building, which has undergone various modifications over the years and provides 90sq m of retail space, has housed a variety of cafe tenants as the town has become increasingly popular as a tourist stopover. The current lease runs until May 2016, with two further rights of renewal of three years each.
"Queen St is the main retail street in the Warkworth township and runs parallel to the Mahurangi River, providing easy access to the nearby State Highway 1 and Matakana and Sandspit Rds," says Coates.
The property is producing net annual rental income of $28,380, and has a capital valuation of $475,000.