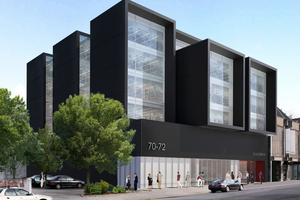 Colliers International has published a Christchurch-specific office and retail leasing portfolio called First Mover, which includes key CBD projects under construction or in advanced planning.
Christchurch general manager Jonathan Lyttle says commercial tenants are impatient to return to the inner city.
"Four tenants have already signed unconditional leases comprising 7000sq m of net lettable area, while another six tenants have conditional agreements on a further 20,000sq m," Lyttle says.
In March 2011, 76 per cent wanted to return to the CBD, by March 2012 that edged up to 81 per cent.
After the blueprint last year mapping out the framework of the central city, the figure was close to 100 per cent.
Lyttle says blue-chip corporate tenants are keen to be among the first movers. "We're currently working with many such businesses - the likes of banks and professional service firms. The suburbs were natural early winners and will continue to suit some tenants but the honeymoon is well and truly over for others."
He says that while most attention had focused on A grade space, where demand for 55,000sq m was expected, there was a far greater demand for B and C grade space and lesser rentals.
Primarily, buildings needed to be safe, light and airy with air-conditioning.
"But over-engineering, base isolators and extras such as fast lifts are not needed for most tenants."
Lyttle says several things needed to happen to gain further certainty for tenants.
"We need some of the anchor projects to get under way. The Convention Centre and the justice and emergency services precinct are the first ones.
"I think tenants would also like to know what priority project preferences the Christchurch central development unit has. Last, but certainly not least, Government needs to lead the way by signing up for space back in the city centre."
Central city properties featured in the First Mover publication include Anderson Lloyd House, which comprises four upper levels of office space plus ground-floor retail. Office space of 742sq m remains available plus 120sq m of retail space on the ground floor. Anderson Lloyd has taken naming rights on the building currently under construction at 72 Cashel Square, which has been designed as people-friendly, low-rise retail and office area.
With an 80m frontage opposite well-known department store Ballantynes, Cashel Square's office space consists of open floor plates providing flexibility for leasing requirements. Typical floor plates are 4300sq m. The design incorporates laneways, including an impressive glass-roofed atrium leading from Cashel Mall and Hereford St.
Awly Investments will soon begin work on its five-star Green Star and five-level building with retail outlets on the ground floor, a public courtyard, and commercial office space on the upper floors.
The Awly building is on a large site and consists of three 18m deep buildings framing the central courtyard to provide open flexible office space with excellent outlooks and daylight.
The proposed building is at the heart of the Central City rebuild and is next to the Avon River opposite the historic Provincial Chambers.
The Terrace, a hospitality precinct containing 20 bars and restaurants, is being developed by colourful local investor Antony Gough and is a $100 million redevelopment of former hospitality precinct The Strip.
The $30 million first stage of development will rebuild the bars and restaurants formerly on the terrace overlooking the river. Work is expected to begin shortly with an opening on Show Week next year.
It will cover half a city block bordered by Oxford Tce and Cashel St and Hereford St and will have nine buildings connected by six laneways, bridges, a central piazza and upper promenade.