This could be good place to put down roots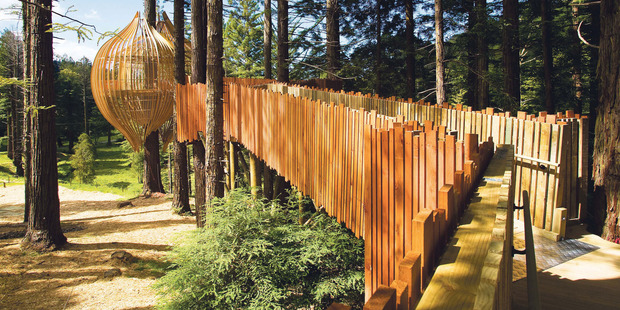 The Treehouse, an award-winning hospitality function venue created as part of a high-profile advertising campaign for Yellow Pages, is for sale along with large adjoining landholdings near Warkworth.
Built 10 metres up a giant redwood tree beside State Highway One in 2008, the Treehouse hospitality venue sits on 6.2 hectares of land.
Builders and suppliers on the 120-day project were sourced through the Yellow Pages trade directory and featured on weekly televised updates.
The property is being sold in conjunction with three neighbouring landholdings of 12.3ha, 5.9ha, and 3.47ha.
The venue was initially established to operate for one month, but its backers, Yellow Pages, extended the business's life-span by turning the four metre bulb-like room into a private function venue for corporate events, weddings and social occasions for up to 35 people. During that period the venue was booked out for dinners for months in advance.
The structure went on to win several architectural awards from the New Zealand Institute of Architects, the New Zealand Institute of Design, and the New Zealand Institute of Building. The redwood tree around which the structure is built is 40 metres high, with a trunk diameter of 1.7m.
The Treehouse business and parcels of land are being sold by Nicolas Ching - Bayleys Central Auckland commercial sales person, and colleague Hooi Hing through a tender process closing on December 6.
"A new resource consent has been granted allowing the Treehouse to evolve from a private function venue to become a licensed restaurant available for public use," Ching says.
He says the land could be bought either as one combined offering, or individual units, allowing the Treehouse to be bought for its commercial aspects, and the adjoining land to be purchased as lifestyle block residential sections, or for additional business activities.
The land and Treehouse are owned by forestry businessman Ken Holmes. Shortly after the initial publicity burst for Yellow Pages, the company handed over the structure to Holmes who subcontracted management of the function venue to a food and beverage operator.
Hooi Hing said the venue had been dormant for the past year while Holmes focused on his core forestry business. "As the only function venue and food and beverage outlet of its kind in New Zealand, and with the vast Auckland target market just 45 minutes away via a main highway, the business could be reinvigorated under new ownership or management."
Support infrastructure for the venue's food and beverage operation includes a full commercial kitchen with four burner hob and stove, a fridge/freezer, and dishwasher
The neighbouring 12.36-hectare block has an elevated building platform overlooking mature trees and grassed hillsides. The adjacent 3.47-hectare block contains a 200sq m four-bedroom house surrounded by redwood and pine trees, while the 5.9-hectare block contains a 134sq m three-bedroom dwelling.

Venue and land
Property: Treehouse hospitality venue
With: Three large land blocks
Located: Near Warkworth by SH1
Features: Unique in New Zealand
Potential: Has Resource Consent for restaurant