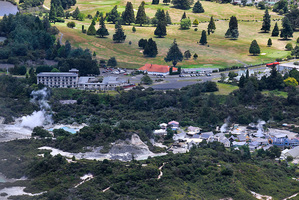 Four hotels in New Zealand's former second biggest privately owned motel and hotel chain are for sale as part of a receivership process.
Earlier this year the SilverOaks Group put its six large accommodation businesses in Auckland, Rotorua and Wellington up for sale.
The Oakwood Manor Motor Inn in Mangere, comprising a 53-unit conference and function venue, was bought for an undisclosed sum with a view to continuing accommodation services and, in the longer term, possibly adding retail premises and a residential development.
The a 64-room SilverOaks Hotel in Wellington, close to the city's botanic gardens, has also been sold, subject to a conditional contract.
The remaining four hotels, in Rotorua and Auckland, are now being sold through a receivership process by Bayleys - either as one combined portfolio or individually, with a deadline for offers closing on November 19.
The marketing campaign is being headed by Paul Dixon and Mike Peterson of Bayleys Auckland, with representation in Rotorua by Mark Slade.
Dixon says the four remaining hotels in the former SilverOaks group are being traded in receivership by accountants Korda Mentha which has maintained the financial integrity of the properties and ensured that all forward bookings or reservations are fulfilled.
The four properties are:
The SilverOaks Inn Silver Point, Mangere Bridge, Auckland - a 35-room conference and meeting location.
The SilverOaks Geyserland in Rotorua - a 68-room property overlooking the Whakarewarewa Thermal Valley.
The SilverOaks Resort Heritage in Rotorua - a 41-room apartment-style building supported by a range of leisure activities and amenities.
The Gwendoline Court Motel in Rotorua - an 18-unit business close to the city's Maori arts and crafts attraction.
Dixon says most of the hotels were built during the 1980s and are in a fairly 'tired' stage of their lives with varying degrees of investment needed to restore them to their former glory and refurbish them with modern interior decor, both in the bedroom and communal areas.
"Combined with the fact that the properties are now in receivership, albeit still generating some revenues, the receiver's price expectations reflect a realistic appraisal of their current market position," Dixon says.
Leisure amenities within the SilverOaks hotels and motels feature swimming pools, spa and sauna rooms, tennis courts, barbecue areas, playgrounds and mini-golf.
Corporate services include conference and meeting rooms. All the properties have licensed food and beverage operations delivering restaurant and bar options, function catering, or in-room dining.
Dixon says that one of the Rotorua properties, and the Auckland site have potential for conversion into private rental accommodation, while the remaining two Rotorua locations could continue in the hospitality arena.