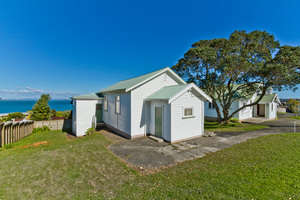 Bayleys Mairangi Bay is marketing the Castor Bay Presbyterian Church on Auckland's North Shore after an announcement last month that it would be sold.
The church buildings and land at Seaview Rd are being sold through a tender process closing on October 25.
Salesman Peter Christoffersen says the two buildings have a combined floor space of 250sq m with off-street car parking for eight vehicles. There are no graves on the site, and the church and neighbouring hall have no historical or heritage classifications.
Christoffersen says that, subject to council consent, the two buildings could be converted into commercial premises - with potential new owners including a childcare facility, or small business services consultancy.
Amenities within the hall building include a working kitchen, a large communal area, toilet facilities and several smaller lounge and reception rooms. The neighbouring church has an entrance foyer leading into the chapel, with a vestry and administration to the side.
Christoffersen says the five-year strategic plan of the Mairangi and Castor Bays Presbyterian Church has guidelines for "relationships with other churches" and for "connecting with the community" which are being integrated into marketing approaches for the property.
"These buildings have potential for business use such as a preschool childcare facility, a dance or fitness studio, or a small business hub - all of which comply with the church's aim of connecting with the wider community," he says.
"Such business uses open up opportunities for conversion of both structures into commercial use.
"With dual street frontage access off two roads, and a considerable amount of additional parking space available - the property is capable of handling moderate traffic flows in concentrated periods."
In addition to the Presbyterians, the Castor Bay church and hall are used by the Anglicans from Milford parish and a Korean congregation. Several community groups, including the preschool education organisation Mainly Music, still use the hall facilities during the week.