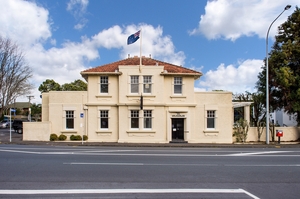 In the late 1960s, Darryl Kirby's bus would stop right outside the Epsom Post Office building on his way to work.
And every day as a young man in his early 20s, he would look at the striking building and silently say to it: "One day, I will own you", never dreaming that one day he actually would.
Twenty-three years later, when the Government began selling off Post Office properties nationwide, the former advertising agency owner and wife Valerie made the winning bid at auction on the grand old building at 311 Manukau Rd.
After extending and refurbishing the landmark property in keeping with its original design, and naming it "Kirby Building", they moved their advertising agency into it. They even continued to supply stamps, free of charge, to the elderly folk who couldn't get used to the fact that "our Post Office" had moved on and Kirby Advertising and Marketing had moved in.
"In the mid-1990s Paul Holmes did an item about the Government's public property sell-off," says Kirby.
"The cameras were rolling and I had just explained to the interviewer how we were still getting NZ Post customers coming in when, right on cue, a little old lady, completely oblivious to the camera crew and lights, marched up to our reception desk and slapped her money down on the counter.
"She asked for stamps and our receptionist obliged. We used to keep a supply of stamps and give them away as a service. There was a post box right outside and it saved our elderly folk a long walk to the new post office down the road."
Since Darryl Kirby retired, the fully renovated character Post Office building that housed his advertising agency has been leased to a variety of tenants and is now on the market for the first time since he and Valerie bought it in 1990.
It is a part of Bayley's latest Greater Auckland portfolio and will go up for auction on October 31.
The building is being offered for sale with vacant possession through Rachael and Mark Pittaway of Bayleys Auckland. Rachael Pittaway says the property is likely to attract an owner occupier or investor interested in developing the site further because it has a large land area.
The two-storey, 415sq m building is on a 789sq m site which could potentially accommodate up to 17 parking spaces at the rear and up to three levels of office or residential accommodation on top.
With the mixed use zoning, the property could be converted into a mixture of apartments and commercial space, Pittaway says, and concept plans had been drawn up for this type of development.
It is in the Auckland Grammar School zone and has a Historic Places Trust Category 2 classification.