Latest Total Property auction includes properties in sought-after and convenient areas of Auckland.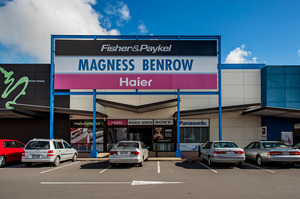 Two retail properties in east Auckland will go under the hammer later this month as part of Bayleys' latest Total Property commercial and industrial portfolio.
One is a large unit occupied by a Magness Benrow home appliance outlet in The Hub, Botany's bulk retail shopping centre.
The 561 sq m unit at 451 Ti Rakau Drive, owned by a private investor and for sale for the first time since the complex was completed in 2001, is being marketed by Tony Chaudhary and Janak Darji of Bayleys Manukau office.
Magness Benrow has been at The Hub for several years and has a three-year lease from June 2011, with a further two three-year rights of renewal. It is one of three Magness Benrow outlets in Auckland and has a substantial amount of on-site parking.
The store is in a central position towards the Ti Rakau Drive end of the complex which is serviced by two major arterial routes. Other tenants in the complex include Bedpost and Resene Paints, on either side of the unit for sale, plus Burger King, Countdown, and Wendy's.
"The Hub itself is a very high-profile complex and there doesn't appear to have been much vacant space in it since it was completed," Chaudhary says. "We often get inquiries from tenants wanting to get into The Hub, if space become available."
He says quality bulk retail outlets are always popular and sought after property investments and because of this they are very tightly held. Chaudhary says the complex is part of the growing Botany precinct which is increasing its retail dominance in southeast Auckland as it continues to feed off surrounding housing developments.
The unit is among 15 commercial and industrial properties which will be auctioned on September 26.
Also up for mortgagee auction on the same day in Pakuranga is a retail unit now occupied by Highland Cafe and Bar Limited, trading as the Singha Thai restaurant and bar, within the Highland Park shopping complex.
Bayleys Manukau's Simon Andrews, who is marketing this property in conjunction with Katie Wu, says a new owner would have three options available: negotiating a new lease with the incumbent tenant, finding another tenant for the property or moving in as owner-occupier.
The 413 sq m retail Unit C at 491 Pakuranga Rd, Highland Park, includes 45 sq m of mezzanine storage and is surrounded by other food outlets in the U-shaped complex.
Neighbouring tenants include Caltex, Burger King and Blockbuster Videos.
Andrews says the complex is in a location that benefits from the huge volume of traffic passing along Pakuranga Rd and caters to a sizable residential catchment.
There is easy access from Pakuranga Highway via two different sets of traffic lights.
"Pakuranga remains an attractive suburb; it is well serviced with local amenities and shopping centres at Botany and Pakuranga.
"Within 500 metres of this complex is Pakuranga College, the Howick Pakuranga Netball Court, Lloyd Elsmore Park and the Pakuranga Rugby Club.
"All of these, together with the substantial residential catchment area, provide good business for the hospitality and food-related businesses at Highland Park."