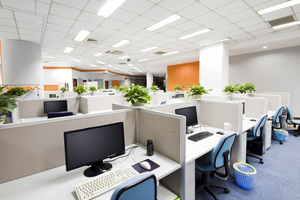 Auckland bosses are losing their private offices as companies flatten corporate structures.
Colliers International's workplace survey found a big drop in once-desirable separate offices as firms take a team approach to floor layouts.
A few years ago, a worker could be proud to be separated from others, toiling in silence behind a named door as a mark of status and a rise up the corporate ladder.
Even 14 years ago, around a quarter of Auckland's central business district office workforce had their own little piece of work paradise.
In 1998, Colliers estimated about 23 per cent of Aucklanders in corporate inner-city businesses enjoyed the honour. But by 2000, that fell to 16 per cent, by 2004 it was 10 per cent, two years ago 6 per cent and today it was just 4.4 per cent.
Alan McMahon, Colliers national research and consultancy director, said the cultural shift marked a more democratic, less hierarchical management style aimed at better communication and efficiency.
Businesses with lots of private offices were now seen as old-fashioned.
Tenants and investors also wanted to cut their costs and open-plan fitouts were cheaper.
"However, these layouts create an increased need for meeting rooms, quiet working spaces and break-out spaces so avoiding private offices does not necessarily lead to significant savings," McMahon said.
Wellington office workers are also getting to know their colleagues better as they work alongside each other. But they have a far less flat corporate culture than Aucklanders.
The survey found double the number of private offices in the capital, with 8.6 per cent compared to Auckland's 4.4 per cent.
But Wellington's civil servants are less elitist, with overall the lowest portion of private offices at just 2.4 per cent.
The survey also identified the cost of a workstation or desk in an office: $8662/work station, up 14.6 per cent from 1998's $7558/workstation.
The radical new ASB North Wharf block, now being finished in the Wynyard Quarter, has shunned private offices for bank bosses.
Derek Shortt, the bank's property general manager, said the layout was largely open plan.
"However, throughout the building there will be meeting rooms and alcoves available where our people can work in private if they need to."