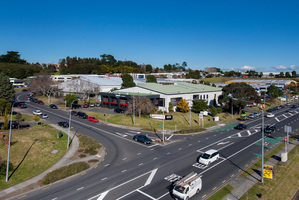 Large Constellation Drive property could be redeveloped or occupied.
One of the last big potential redevelopment sites, on the North Shore's popular Constellation Drive at Mairangi Bay, is for sale.
The 7557sq m corner property, comprising two standalone office and warehouse buildings, on three freehold titles at 31 Constellation Drive and 1-11 Parkway Drive is being marketed by Shoneet Chand and Matt Prentice of Colliers International and is for sale by deadline private treaty closing on August 29, unless it sells earlier.
The Business 9-zoned property, featured in Colliers International's latest National Portfolio magazine, generates annual holding income of $452,800 from its tenancies, with the last lease expiring in January 2014.
Chand says the sale gives a developer the chance to create a landmark property on a high-profile corner site with great exposure to passing traffic.
"Having holding income for 18 months provides a new owner with breathing space to decide on a future use for the property and to plan modifications to the site," he says. "Alternatively, the existing office and warehouse buildings on site would allow an owner occupier to move in and benefit immediately from this popular commercial location."
Prentice says the property's large site in a low vacancy location makes it a "golden opportunity for a business brand that wants to be seen".
"Add to this the significant value which could be added to the site through redevelopment, and it is a winning formula for both industrial occupiers and developers."
Chand says a change of use would provide a possible add-value opportunity, given the recent shift in many neighbouring properties towards retail use. "Over recent years we have seen many properties along Constellation Drive converted to retail use from industrial uses, to take advantage of the large volumes of passing traffic between the Upper Harbour Highway, Constellation Drive motorway on- and off-ramps and the Mairangi Bay residential area," he says.
Retail occupiers along Constellation Drive and adjoining roads include Wendy's, McDonald's, Cory's Electrical, HomeZone Centre, Burger King, Farro Fresh, Gilmours and Z Fuel. A Nosh outlet is also under construction, says Chand.
The two buildings on the Constellation Drive site, which has more than 200m of road frontage, are occupied by Juralco Aluminium, Premier Books and HRV, as well as Vodafone and Telecom cell sites.
Juralco holds a lease expiring in January 2014 and pays $208,040 in net annual rent. The company manufactures, supplies and installs building products to homes throughout New Zealand and has been in business since 1961.
Premier Books pays net annual rent of $155,000 on a lease expiring in November 2013.
It is New Zealand's largest display marketing company, distributing books, stationery and educational products.
Home ventilation products company HRV, which was founded in 2004, has a lease expiring in August 2013 and pays $75,000 in net annual rental income.
Vodafone and Telecom leases have various expiry dates and generate $14,773 in net annual rent.
Prentice says the Constellation Drive area has experienced considerable growth in recent years thanks to Mairangi Bay being close to the State Highway One motorway.
"Growing congestion on the Auckland Harbour Bridge has also created demand for more service, industrial and employment opportunities on the North Shore."
Constellation Drive is a major arterial route, carrying tens of thousands of vehicles daily.
It forms one edge of the popular wider Mairangi Bay commercial precinct, bounded by Rosedale Rd to the north, Apollo Drive to the east, Constellation Drive to the south and William Pickering Drive to the west.
"As part of this wider commercial and industrial locality, 31 Constellation Drive is surrounded by a variety of industrial, commercial and retail establishments," says Prentice.