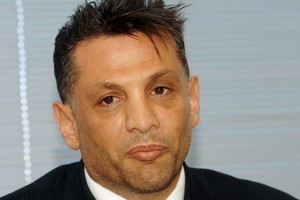 Receivers for the collapsed property empire of Terry Serepisos said they received a "good range of competitive tenders" for the property developer's former headquarters in Wellington. File photo
Bankrupt Wellington businessman Terry Serepisos's luxury home has been put up for sale on the auction website Trade Me.
Serepisos was declared bankrupt in September, when he failed to convince the High Court in Wellington to give him more time to try to secure new funding from a Hong Kong-based investment bank.
At the time he owed more than $22 million.
His company, century City Investments, was put into receivership shortly after that.
Now his $1.5m former Roseneath home has been put up for a mortgagee sale by tender.
The site lists the house as the King of the Castle and described it as a "luxury five bedroom open plan and spacious house with a magnificent and breath-taking 180 degree view of the harbour and city, all day sun, large decks for entertaining and a double internal access garage''.
The half acre 1980s Robieson Street property can be viewed by appointment only. The tender closes on September 5.
- APNZ