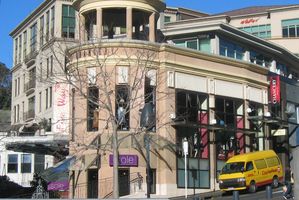 With consumer confidence improving, the aim is to revitalise this luxury shopping precinct.
The Chancery retail precinct on Courthouse Lane at the southern edge of Auckland's High St is about to receive a makeover to give it a new lease of life.
Chancery is a $40 million mixed retail and commercial hub, combining 4000sq m of retail space with 4000sq m of commercial space, on the edge of the High St fashion district and bordered by Freyberg Square, the high-rise Metropolis apartment tower, Albert Park and the historic Auckland District Law Society's Chancery Chambers building from which it borrows its turreted design features.
The centre occupies an area bounded by Chancery St, Courthouse Lane, Bacons Lane and Kitchener St.
Jones Lang LaSalle is to undertake a comprehensive marketing campaign to increase occupancy and reinvigorate the popular luxury retail precinct which will be undergoing refurbishment and capital works.
Chancery tenants include Working Style, an anchor tenant of the retail precinct, which is committing to a long-term lease. Other tenants include Scarpa and New Zealand fashion designer Adrienne Winklemann, whose outlets are around popular restaurants like Mecca, Invito and Caravanserai.
Chris Beasleigh, head of retail sales and leasing for Jones Lang La Salle, and agency retail sales and leasing broker Kate Narro are master agents for three retail premises and one office unit on behalf of the clients of property investment, acquisition and management company Viranda Group.
"Chancery is a unique CBD shopping precinct within the Auckland CBD that is popular with locals and visiting tourists," Beasleigh says. "The retail atmosphere is supported by attractively designed character buildings and a cobblestone central courtyard served by a variety of cafes and restaurants. Underground car parking is also provided."
"Entry into the Chancery is defined by strong architectural elements, with its iconic domes and turrets connecting it with the law society building which was built early last century.
"At the centre of the Chancery is a cafe and bar island podium which operates under a glazed central canopy. Visitors to the centre are offered a sheltered, but not enclosed, shopping experience with access to over 40 stores."
The site allows easy access to the University of Auckland, the Metropolis complex, Queen St and the thriving downtown area, including Britomart Transport Centre.
The site has high exposure to daily pedestrian traffic and benefits from being near public spaces like Freyberg Square and Albert Park which are popular with office workers at lunchtime during the week.
The Chancery is easily accessed by public transport and a basement car park provides for up to 200 cars. The Chancery car park on an adjoining site also provides an additional 800 parking spaces.
Narro says The Chancery has all the fundamentals for a vibrant retail destination but time hasn't treated it kindly.
"Launched as a luxury retail precinct, it lost its way after a large proportion of tenants vacated the precinct," she says.
"Like so many upscale retail precincts around the world, The Chancery fell victim to the global financial crisis which resulted in a nationwide reduction in consumer spending with the luxury sector being one of the hardest hit.
"Four years on from the start of the global financial crisis, now is a perfect time to revitalise Chancery and aid it back to its former glory," says Narro.
According to the latest ANZ Roy Morgan consumer confidence survey consumer sentiment is stronger than a year ago, she says.
"Undoubtedly consumers are still cautious, but over the last year, excluding one-off events like the Rugby World Cup, that tend to distort the long-term story, there has been a rising trend in retail spending and sentiment, which will translate into real activity.
"Pleasingly, we have been given a blank canvas. There are a number of sites available and our ability to market four premises initially will help provide a co-ordinated approach."
Premises available include 70.74sq m of retail space suitable for fashion and beauty retailers. Rents are negotiable. There is also a 70.79sq m area store available.
A slightly larger store, comprising 141sq m with dual frontage from Chancery St and Chancery Square, is also available.
"We expect strong inquiry from all existing and new fashion retailers searching for chic retail and office space supported by a vibrant central dining experience," says Narro.