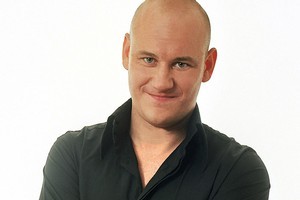 The inner workings of Terry Alderton's manic mind are a scary thing to contemplate - but side-splitting to witness.
"I'm stuck in this world. I'm screwy in here," he says. No kidding, you mad menacing man.
His multiple-personality routine comes complete with sound effects (the best of many gems is the brain-rattling drone of his Silverstone Grand Prix-meets-Guns'N Roses), accents (from a Mumbai call-centre employee to Rhys Darby) and crackpot yarns (his face-morphing "imaginary audition" with Peter Jackson for The Hobbit is masterful).
He's back at the comedy festival this year by popular demand following his appearance in last year's The Big Show.
While there are hints of his old routine, this show about nothing in particular moves all over the place as his devilish mind gets sidetracked and heads off on all sorts of tangents.
There's everything from a rousing rendition of Spandau Ballet's Gold to serenading a distinguished-looking gentleman in the audience with a romantic saxophone solo; then he puts the fear up the straight lads in the front row with his declaration: "I could kiss you now but that's for the finale."
Most unhinged of all, though, are his dealings with hecklers. Those who saw him at the Comedy Gala will know Alderton is merciless on these jeerers.
One "madam" in particular on the night I attended gets into a prolonged exchange that ends in a good old-fashioned male-versus-female stoush.
He's hardly endearing - with his thrusting, thigh-slapping blokishness bordering on misogynistic - and he sticks it to New Zealand relentlessly, but you can't help but love the clever bugger.
The show draws to a close with Alderton looking rather bedraggled for a bald guy; he only has one shoe on ("I've never finished a show with only one shoe before") and his microphone is on the floor in front of the female heckler who he admits gave him a fair run for his money ("I was worried about her for a while there," he mutters in one of his Gollum-like voices).
It's a crazed, confronting and often intense show. The guy is a monster and a must-see at this year's festival. Just don't arrive late, watch where you sit and, if you're not up for some fierce verbal sparring, then watch what you say, too. Although, even if you do happen to be the poor sod wooed on stage by Alderton, it's still sure to be a cracking night out.
When and where: 8.30pm until May 21 (except Sunday).