Kiwi stand-up comedy series A Night At The Classic is appointment viewing, says Deborah Hill Cone.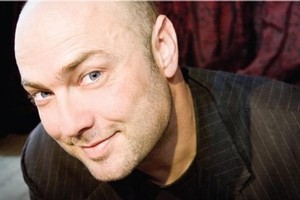 Comedians hold a special comfy possie in hell for reviewers who divulge their best lines so I hope I won't be giving anything away to say the subject matter for TV2's new Wednesday series A Night at the Classic covers the usual: cannibalism, sexual perversion, Westlake Girls' High and Brendon Pongia. A lot of Pongia, come to think of it.
In a sort of Seinfeldian homage, A Night at the Classic goes behind the scenes as well as in front of the mike, attempting to build a comedy TV show around stand-up. All of it is set at Auckland comedy club The Classic, and both onstage and backstage segments are presented by MC Brendhan Lovegrove.
A Night at the Classic is billed in the network press release as New Zealand stand-up comedy "like you've never seen it before" and they might be right. It's actually funny.
It opens in the backstage "green room" - a slummy green cupboard to be more precise - as Lovegrove talks about the first stand-up comic about to appear on the "pro" night.
That would be Andre King (brilliant in mockumentary The Pretender), who is using the hairdryer to blowdry his shirt. Lovegrove tells viewers: "He's very solid on stage. He plays the race card, which isn't really surprising if you look like a massive rapist. But you don't have to fulfil all the stereotypes do you?"
A Night at the Classic spends as much time behind the scenes teasing out rivalries and bitching between the comedians as it does showcasing the onstage talent. It's not a bad plan given the great real-life material there to be exploited: all the dented egos, sour sweat and existential dread that must get generated as comics ready themselves for the intellectual equivalent of a bungy jump with a thin cord.
The show's makers understand the secret sadism of audiences: watching comics shrivel and die makes the actual laughs even funnier. And there is plenty of potential for running gags in Lovegrove's David Brent-like persona. "It's not like he's been on Rove. (Beat). I've been on Rove."
But all the backstage repartee in the world won't save you if the material isn't funny. The first episode starts with a deliberately low-key opening, as MC Lovegrove tries to entice reluctant punters in off the street then asks the doorman how many bookings they have.
"Thirteen," he's informed.
" What's the cut-off point for us doing a show?"
"Thirteen."
This self-deprecatory riff will only pay off if the three "pros"on pro-night, Andre King, Irene Pink and Ben Hurley, actually nail it. Yay, they do.
I'm going to exercise exemplary self-discipline and resist getting a stolen laugh by nicking some of their best lines for this review. I just suggest you watch it. Besides, some of the best ones were too rude to print here.
A Night At The Classic, TV2, Wednesday, 10.30pm