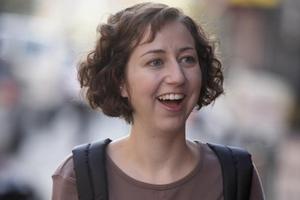 For eight years she's been a real-life version of one of TV's most obsessive fans but, unlike Mel, Sherry de Andres knows when to move on.
Flight of the Conchords' number one supporter has closed down her tribute website, What the Folk!, to focus on her family.
De Andres, from southwest England, started the site after seeing the Conchords perform at the Edinburgh Fringe festival in 2002.
She said it had been a "real privilege" promoting and following New Zealand's fourth most popular folk-parody duo through their rise to fame.
"I just did what I did because two guys with guitars made me laugh," she said.
"I never imagined that eight years later they would be as famous as they are."
What the Folk! was the first site devoted to Bret McKenzie and Jemaine Clement's comedy pairing and has grown to include 140 pages of content.
De Andres' devoted following has meant she's often questioned about being the inspiration behind fictional fan Mel, from the HBO TV series.
"I think Mel is pretty much every fan who ever stopped them in the street and garbled in their excitement at meeting them, sent them gifts, made them cakes and goodness knows what else," she says.
De Andres said she'd closed the website down to spend more time with her family after suffering post-natal depression.
She said she wouldn't be surprised if the Conchords called it quits soon too. "They are both talented performers and seem to like to dip their toes into other areas of the arts.
"I've always enjoyed their other projects and look forward to following their careers for a long time."
The Conchords couldn't be reached for comment, but McKenzie was quoted by USA Today as saying What the Folk! had been "amazing".
They had relied on its concert dates to see where they were heading next, he said.