Comedian James Elliott knows what it is to die. The cackling, heckling voices in the darkness subside into silence, the tunnel of light ... yet now he's back to face his demons again. It's Comedy Festival time.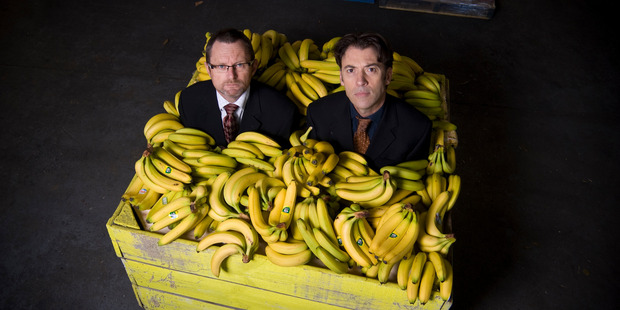 If the cliche about being as sick as a parrot is true then, remembering my first outing at stand-up comedy, parrots must get very sick indeed. The cruellest thing about pre-show nerves is that they zero in on your performance faculties.
First there's the dry mouth. And not just dry, we're talking Sahara-parched, and no amount of fluid can restore the required vocal lubrication.
Then, all that fluid makes you want to pee but you can't go because you're on any second. You can't hear your cue from the MC anyway because it's drowned out by your pulse pounding in your ears.
Then, bang, you're announced and you're on. Only, no one told you how bright those stage lights would be. You can't see a damned thing except for the look of concern on the MC's face as you stagger past him to the microphone stand and fail miserably to get the mic out of the stand.
You're like a peasant struggling with the sword of Excalibur. This is not your destiny.
You're not supposed to be here. What the hell are you doing? Suddenly, it's very quiet and that killer opening line that you spent months crafting has fled from your short-term memory. There you are, on stage in front of a full house.
Only you can't see, you can't hear and you can't speak, not that you can remember what you wanted to say anyway. And you desperately need to pee. Welcome to the world of stand-up comedy.
My first outing was something like that. Or it may have been worse. Just recalling it now is enough to bring on the familiar surge of adrenaline and bubbling of the bowels.
On his first time out in Dublin, Alan McElroy had a full-blown panic attack on stage. It turned out that his spontaneous sweating and twitching to the point of convulsing was a real crowd-pleaser and he won the heat of the comedy competition that a girlfriend had entered him in. Go figure.
Every comedian, no matter how famous, has to get through that first gig. And there's no auditioning process in stand-up comedy.
If you want to give it a go, you simply sign up for an open mic spot at a comedy venue. You get your allocated slot of anywhere between three and seven minutes and away you go.
The convention is that first-timers get introduced as such, with a suggestion to the crowd that heckling isn't fair sport. Someone should have told Vaughan King that.
He spent weeks preparing for his first gig, pacing his backyard and dealing to imaginary hecklers with an array of precision put-downs. It was a short first outing when the no-heckle convention was observed.
US comic Bill Dawes overdid the Dutch courage option on his first outing at a Manhattan comedy club. By his own admission, he bombed, but being partially anaesthetised helped his self-assessment that "if that's all bombing is, it's not so bad".
And, yes, every comedian has bombed or died on stage at one time or another. And of all the ways to die, death by silence has its own unique pain.
That's when the audience is so turned off there's no reaction at all. At least a negative reaction or heckling can give you something to work with, but silence is truly deafening.
Nick Rado's first two gigs in the heats of the UK's So You Think You're Funny went really well, but he was undone by overconfidence in his third outing and clean forgot the second half of a brand new, eight-minute set.
He remembers exiting to the slow hand clap of just four people in a full-house crowd. But then, back in the green room he got the call advising that he'd made it through to the semis of So You Think ... and was off to Edinburgh for a major television gig MC'd by Julian Clary.
It's the corporate gigs that seem to cause the most trouble for comics. Sometimes, just half a line is enough to turned things pear-shaped. Literally pear-shaped in the case of UK star headliner Milton Jones, who made an off-the-cuff joke about a woman's size at a corporate gig.
The woman fled in tears and after the gig Milton also fled - from the woman's co-workers. "I literally had to run to the car with only half my money".
Michele A'Court once did a corporate gig and was told to be as rude and filthy as possible because she was assured "they'll love it".
She bombed and found out afterwards that it was a deeply religious audience and that the employee who booked her was leaving on bad terms and this was her final, and very effective, act of revenge.
I've had some mismatched gigs in my time, as well. As a comic with a legal background I should have known better than to front for some tow-truck drivers. And I was quite nervous about hosting some deerstalkers because a misstep there could have added new meaning to dying on stage.
Then there was the gig I did with longtime comedy partner John Glass at a rest home. Yes, that's right, a rest home, after-dinner, at 4pm. Not the best gig we ever did but we certainly got some new material out of it, none of which is repeatable here.
But the gong for biggest effort only to result in the biggest mismatch between comic and crowd must go to the brilliant and grizzly Canadian Craig Campbell. It started when he got the breakthrough call from his agent. Would he like to open for legendary rock band Blue Oyster Cult? It would mean an all-day drive the next day across several mountain ranges, in winter, from Vancouver to Kalowna to make the evening gig.
Being a huge fan, this was going to be the gig of a lifetime. Just over 24 hours, 450km and several hundred singalong versions of Don't Fear the Reaper later, Craig arrived at what was a very small venue carpark to find a group of strangers dressed in matching cowboy suits.
This band was called Prairie Oyster, and they played both kinds of music, as the old gag goes: country and western. Their fan base was "full-on rednecks" and Campbell is a guy who knows rednecks.
Six minutes in he figured if he didn't leave immediately he might indeed have reason to fear the reaper, albeit one dressed in denim and cowboy boots.
So does someone like Campbell, who has done countless gigs, still get pre-show nerves? The answer is yes, occasionally, especially if he's opening for someone else or it involves technical components outside his control, like live broadcasts.
Most comedians admit to getting nerves, no matter how experienced. But that nervous surge of adrenalin at least helps to keep you mentally sharp.
As Vaughan King puts it, if he doesn't get nervous before a gig, that in itself makes him nervous.
I can still remember being a basket of nerves before my first TV appearance on Pulp Comedy. I was first on and was as jittery as John Banks' media handler must have been this week.
I felt better when host Mike King's beaming smile came into my blurred field of vision and he offered me some calming words of advice: "Just remember Jimmy," he grinned, "you're first up, so the whole night rests on you ... just don't screw it up."
* * *
This year my Festival show with John Glass is Monkey Business, a guide to honouring the ape within. It's part business-training seminar combined with original songs, multi-media support, props and audience interaction galore. Our opening-night nerves will be the usual, together with concerns about musical and technical cues and hoping we remembered to bring the guitar.
We won't have time for any pre-show rituals as we'll be too busy running through a prop list that ranges from a children's play tunnel to our patented personal boundary stick. And lots of bananas.
A lot of performers do have pre-show rituals, beyond the usual nervous pacing. Heidi O'Loughlin likes to shadow box just before she goes on. So somewhere there's a boxer warming up for a title bout by peppering his trainer with one-liners.
As a Christian, Milton Jones says a prayer for himself and his audience. Michele A'Court puts on shoes and jewellery in a specific order.
Rhys Mathewson prepares by answering the age-old question of who ate all the pies. There's a list and they are consumed in a precise order.
And to drink or not to drink before going on? Jamie Bowen has one beer - "just the one".
Vaughan King insists on being professional, which means a calming tonic at a bar other than the venue in which he's performing, and by tonic I mean a tequila shot, a cider and a beer, in that order.
Which reminds me of the joke about the comedian who walked into a bar ... you know what, check out one of the shows in this year's Comedy Festival. The punch lines will be much better.
Monkey Business, by James Elliott and John Glass, runs May 16-19 at the Basement Studio, Auckland. Twitter @JamesElliott8
- James Elliott
TOP FIVE FESTIVAL PICKS
1. The Boy With Tape on His Face
After the Conchords, Christchurch-born Sam Wills is perhaps one of our finest exports. With bulging eyes and gaffer tape strapped across his mouth, his silent comedy is consistently inventive. Audience participation is the key to his act. If you're plucked from the crowd to be part of it and don't get up you will be the one looking foolish.
(May 8, Bruce Mason Centre, Takapuna; May 11 and 12, Opera House, Wellington; May 14 to 19, Rangatira at Q, Auckland)
2. Rhys Mathewson
Our youngest Billy T Award winner, this 21-year-old graduate of the Class Comedians course is one of our brightest hopes. A big mop of curly hair and a goofy grin greet anyone who attends his shows. Full of infectious energy, he's self-assured and is promising a theme this year - and has even said his new show will contain boxing. The mind boggles.
(May 8 to 12, Basement Studio, Auckland)
3. Milton Jones
British comic and veteran of TV panel shows, this surreal stand-up is the consummate professional and a complete crack-up from beginning to end. One-liners, puns and non sequiturs fall from his lips with such perfect comic timing that any resistance to this archduke of the absurd is utterly pointless.
(Until May 12, The Classic, Auckland)
4. Rose Matafeo
Rose, a Billy T nominee this year, is an endearing proposition on stage. At present doubling with host duties in the acclaimed FanFiction Comedy, her solo show, in which she creates her own club, has scored her the yellow towel nomination. Plus, anyone who spends their time crafting and laminating badges for their audience deserves your love.
(May 15 to 19, The Basement Theatre, Auckland)
5. Jan Maree
Last year she was the first woman to win the Fred Award (Prize: a gold gumboot named after Fred Dagg). Jan Maree's show promises a
voyage of self-discovery mixed with an existential crisis - all of which will be explored with her ever-so-slightly raucous and rude personality.
(May 15 to 19, Vault at Q, Auckland)
- Darren Bevan