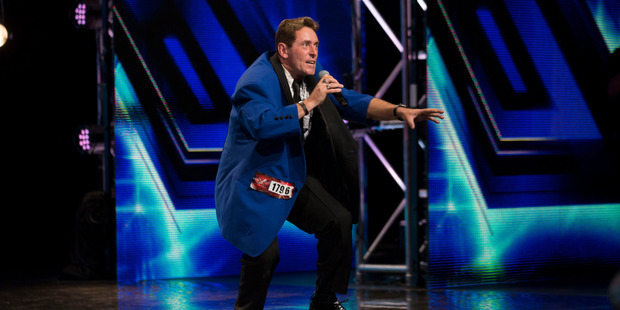 Ruby Frost got mean, Daniel Bedingfield cried, Melanie Blatt made a contestant's mad mother storm onstage to shout at her, and Stan Walker, well he just stuck with being Stan the sweet bro.
As The X Factor NZ rolled out episode No3 last night (TV3, 7 o'clock), the game got a touch tougher, because, I don't know about you, but I want a little more from this show now than just more of the same.
And those judges were certainly making an effort last night as the epic - 28 flaming episodes - singing contest moved on through its audition phase.
It continues to mix the awful with the "awesome" - a word that might have come up a bit. But that's what it's all about and a good part of the show's watchability is tied to the awfulness of some of the acts.
Tony, the 47-year-old in the big blue jacket doing Footloose with fast feet and flat voice, made Stan think of The Exorcist and pink-haired Ruby "a little frightened".
Tony, unworried, said, "I know I'm number one. They wouldn't know what entertainment is."
At times last night, I wondered if those emotional judges actually did know what entertainment was - or at least what a winner might look like.
They let a few unexceptional ones through - a 14-year-old channelling Taylor Swift, the 15-year-old with the Eagles song and a labourer from Leeston doing The Beatles.
Ruby fell for his kaftan. Mel trumpeted, "This show needs someone like you."
But there was a wonderful outbreak of rapper hatred, one being told by Daniel, "I had to stop you because you're crap."
And there was talent - most genuine and special last night in the person of Eden, a winningly-awkward 18-year-old from Auckland with her own song.
Daniel cried again. Melanie said, "Frickin' amazing", and she, that time, might have been right.