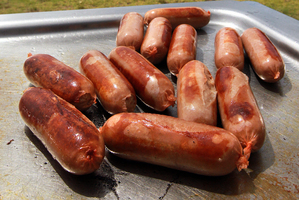 Solar-powered hover cars, a smokefree and vegan population and a compulsory six-month stint in the bush are just a few of the ideas young New Zealanders are putting forward for their vision of the country in 2050.
The 13 secondary school students are finalists in the Future U competition, an initiative by Massey University and Westpac to encourage youth to become "thought leaders".
The group will meet in Auckland next month to hone their ideas, and the winner will be invited to address prominent leaders at the It's Our Future - the New New Zealand Symposium, in December.
The students, all born between 1994 and 1997, submitted an online video explaining their vision of New Zealand in 38 years' time.
Prerena Nair, 16, of Epsom Girls' Grammar School, said books would be a rarity in 2050 and children would learn from technology.
There would be a need for solar-powered hover cars to minimise traffic jams and New Zealand would have to use nuclear power to keep up with its population growth, she said.
Auckland Girls' Grammar School student Clare Wu, also 16, said she wanted a New Zealand free of discrimination.
Drugs, alcohol and cigarettes would be banned and crime would be low. Animals would live in sanctuaries and die of old age and all humans would be vegan.
"No one will use animal products because everyone will enjoy living in a way where no one else gets hurt."
The country would make money exporting organic food and a plant-based diet would mean less cancer, heart disease, diabetes, obesity and osteoporosis.
Peter Scriven, 17, of Cashmere High School in Christchurch, suggested compulsory service to get every New Zealander to care about the environment. "Part of this will be in the bush looking after native plants and animals and part of this will be in the community helping other people."
All the students wanted a cleaner and greener New Zealand.
Massey University vice-chancellor Steve Maharey said the entries showed that young people had a range of concerns about the future, but most were optimistic New Zealand could maintain its pristine environments, unique culture and quality of life.
"While their visions of 2050 involved a good smattering of flying cars or, in one case, humans living in cylinders orbiting the Earth, most sought practical solutions to problems such as climate change, overpopulation, food shortages and social disorder.
"The Future U competition shows New Zealand's youth have the passion and the confidence to drive our country towards a positive future."
To see Future U competition video entries, visit future-u.ac.nz