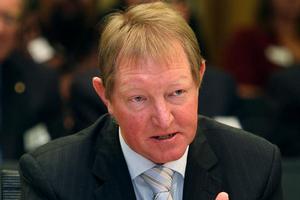 New Zealanders are more ambitious than the Government when it comes to cutting greenhouse gas emissions, a survey suggests.
The online poll found that there was support for deeper cuts than the 15 per cent by 2020 as suggested by Climate Change Minister Nick Smith and Prime Minister John Key.
The poll of 2251 people found 51 per cent wanted cuts of at least 16 per cent while 49 per cent wanted cuts of at least 20 per cent.
The Government is due to announce its target in the next week. It is committed to a 50 per cent cut by 2050, which could mean an interim target of about 15 per cent by 2020.
According to the poll, 21 per cent of the population support a 2020 target of minus 15 per cent or less.
The most ambitious 9 per cent support cuts of at least 41 per cent while six per cent want no cuts. Less than a third, 28 per cent, did not know.
The ShapeNZ poll was paid for by the New Zealand Business Council for Sustainable Development. Council chief executive Peter Neilson said the results showed there was broad support for the Government to cut deeper than the 15 per cent suggested by Climate Change Minister Nick Smith and Prime Minister John Key.
United Nations experts say developed countries need to cut emissions between 25 and 40 per cent from 1990 levels in the next decade to avert the worst damage from climate change.
Nick Smith told TVNZ's Q&A programme last week that a 40 per cent reduction was too expensive.
International climate change negotiations start again on August 10 and the Government has said it will announce a target by then.
One option is to follow Australia's lead and agree on two targets - a higher target to apply if a strong international agreement is reached and a lower target which the country will aim for anyway.
Wealthy G8 countries agreed to an 80 per cent cut by 2050 but the interim 2020 target remains a sticking point.
Asked whether New Zealand should adopt a two-tier target, 45 per cent of those polled agreed. Thirteen per cent disagreed and 39 per cent were neutral or did not know.
Most people wanted their preferred political party to get on and agree to an Emissions Trading Scheme with their rival political parties.
Labour and National voters were keen to see a multi-party agreement on emissions trading, and picked the Greens followed by whichever major party they did not support as the favoured parties.
Mr Neilson, whose organisation supports a minus-20 per cent target, said the country would face "massive" costs from severe climate changes if world efforts failed to keep temperature rises within 2 degrees centigrade.
The Intergovernmental Panel on Climate Change has said the 2C target will not avert climate damage but will stave off the worst effects.