Kirsten Warner is captivated by the beauty and mystery of Great Barrier Island.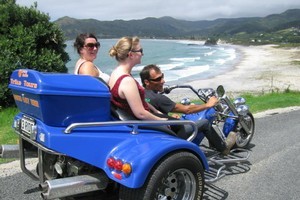 A curious thing happens when you visit Great Barrier Island. Somewhere across the Hauraki Gulf, possibly at the moment the boat pulls into the wharf or the plane descends, you cross into another world and it's like landing somewhere as remote as the Chatham Islands.
When you leave, the Barrier is out there, hovering like a time capsule, and you know you will have to go back again. How many other cities have a place of such unspoiled isolation anchored just off the mainland, so easily accessible?
For Barrier folk (population approximately 700) life is at times rugged, although somewhat easier than when I last visited. Now roads are mostly sealed (they still don't reach about a third of the island). There's still no public water supply but there are a few more shops, internet access, a new airport building and a row of expensive holiday houses at Medlands Beach.
Lucky visitors can just enjoy the Barrier without having to manage solar panels, generators and schooling teenagers. Don't expect any "attractions" though, except the island's own natural ones.
The Barrier itself is the big drama.
Taking a long weekend you can slow down Barrier-style on the way over on the boat and really enjoy the Gulf opening out as the islands slip past. SeaLink ferries vehicles and passengers year-round, and the crew know the ropes: I was feeling seasick (until the Sealegs kicked in) and they put me on the back deck with ginger beer, peppermints and towelettes just in case.
As we slipped up the dramatic northern Coromandel coast, the crew were on watch - on most crossings they encounter right whales cruising the Colville Channel.
The captain announced he'd just phoned 0800 Dolphin and been put on hold. He was scanning the horizon for fins or spouts. Just when we'd given up hope, dolphins arrived, and for five exhilarating minutes three of them played around the bow, diving and flipping to show off their white bellies.
There is no public transport on the island, so bringing a vehicle is an option. You can hire a car, unless you plan on just slowing down and walking to the beach. I've been to Great Barrier before, but having Steve Billingham from the Barrier Tour Company as guide and driver was total immersion, and I would thoroughly recommend even half a day with him. Steve doubles as school bus and tanker driver and everyone seems to know him.
His Westie figure waits on the wharf in black jeans, T-shirt and boots. He's husband and business partner of the lovely Lianne - as Miss November she graces the Playcentre's calendar showcasing the island's over-45 ladies. The fund-raiser, wrapped up with a bra-strap, is on sale at The Island Emporium, Barrier's version of a department store. Lianne looks good with a surfboard. "She looks good without one!" Steve grins.
If you are interested in history, there's plenty. New Zealand's first copper mine and last whaling station, which closed in 1962, were on Barrier. Some very old settler buildings are sadly almost beyond repair, but three are being restored at the historic village and art gallery, one built from the timbers of a famous shipwreck, SS Wiltshire.
You can see the remains of the whaling station and a kauri mill at Whangaparapara Harbour, where we board Sundancer, a ship-shape charter boat. Vivaldi plays through speakers on the back deck as we slip into a misty morning.
The coastline is mysterious, moody, and time slips away in fine rain. It is very beautiful. For a couple of hours, passing the Broken Islands and Kaikoura Island, the only sign of human occupation is a crayfishing family near the entrance to Port Fitzroy.
Skipper Chris Ollivier was a marine surveyor and captain of various Auckland Harbour vessels before settling on the Barrier five years ago. He is an informative, generous and urbane guide in this wild place. But then almost everyone on the Barrier is happy to share. They need visitors, and there is no danger of over-population.
The first thing Chris does is cast a line and lure for kingfish to cook for lunch. Dolphin fins pass purposefully. But Chris must have forgotten to phone 0800 Kingfish. Instead, moored below a luxury house (on the market for a mere $2 million) he cooks up delicious kebabs with salad from local Okiwi Passion organic gardens. It's hard to imagine 800 boats in Port Fitzroy harbour for New Year's Eve.
We put in at the jetty of Glenfern Sanctuary and meet Tony Bouzaid (former international yachtsman) whose vision for the past 13 years has been to return a 230 ha peninsula (as big as Tiritiri Matangi Island) to the paradise it was before milling and predators.
You can see the 2km pest-proof fence snaking up the hill. A new section has been constructed along the waterfront to stop rats swimming in. On the other side of the peninsula, the pest-proof fence will have to be extended into the water to stop rabbits swimming around.
Tony guides groups, which is, again, money well worth spending, although you can walk around the property on your own. But then you'd miss the thrill of chugging up the hill strapped into the back of an ex-army unimog to a vantage point way above the bottle green harbour.
Another thrill is the suspended bridge to the canopy of a 600-year-old kauri tree. Tony has slept up there with his grandchildren, but I found it scary just managing the swing of the bridge and short ladder to the steel basket viewing platform.
There is so much to do and see in a weekend that you will have to balance it with some down-time on Barrier's magnificent, empty beaches, so clean the white sand squeaks.
Walking tracks lace the interior up to the remains of kauri mill dams and tramlines. We tried to visit Windy Canyon's sheer rock walls, sharp pinnacles and view, but it remained sheathed in rain clouds; we were later told its grandeur was worth a trip anyway. At Kaitoke Hot Springs, an easy half-hour walk into beautiful bush, hot water springs out of the sand under your heels and bottom as you sit in the creek amid rocks bright green from minerals.
There are four museums. We visited the Milk, Honey and Grain Museum at Claris, well worth a visit and a donation: it's a labour of love for a local historian who is salvaging artefacts from those industries. Local artists welcome visitors to Black Cow studio on land bought communally 28 years ago at Schooner Bay.
You can eat out at the Currach Irish pub, chat with locals and look at memorabilia. Or go up-market at Mount Saint Paul Lodge, grandly overlooking wild Kaitoke Beach.
Steve's gleaming electric blue and chrome trike is low-slung, stable and registered as a car so you don't have to wear a helmet. A fast ride on the Kaitoke straight is an exhilarating ending to a memorable weekend.
The grand finale is taking off, over a pod of 20 or so dolphins lounging just off the beach, for the 30 minute flight to Auckland. A fellow passenger and I, dazed with the blue and silver beauty of the Hauraki Gulf, swear we have been to heaven and back.
Travellers' tips
Information: Ph 0800 AUCKLAND and drop into the i-SITE Visitor Information Centre at the Claris Airport Terminal. The Department of Conservation administers 60 per cent of Great Barrier Island, including six conservation campsites. Ph (09) 379 6476 for maps and brochures.
Getting there and back: The SeaLink passenger and car ferry departs from Wynyard Wharf, Jellicoe St near the CBD. It also books air links: ph 0800 732 546. Return ferry fares: adults $127, children $85; family pass: 2 adults and 3 children $325 (save $184). Cruise there, fly back: adults $183, children's prices vary.
Where to stay: Sunset Waterfront Lodge, Tryphena, ph (09) 429 0051. Rates March-September $153-$204.
Looking around: Steve Billingham & Barrier Tour Co. Ltd, phone 0800 997 222.
Things to do:
Hooked On Barrier boat charters, phone 429 0740.
Glenfern Sanctuary, phone 429 0091.
Ferry from Tryphena to Port Fitzroy: $30. Hire available for surfboards, bikes, kayaks, dive gear, and golf clubs at the 9-hole range.