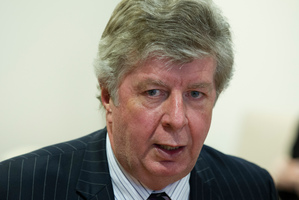 The engineering design work done on four Christchurch buildings will be reviewed for "negligence or incompetence'', Building and Construction Minister Maurice Williamson announced today.
It comes after issues were highlighted with Christchurch City Council's consenting processes last year.
The International Accreditation New Zealand (IANZ) last year revoked the council's accreditation as a building consents authority after it failed to improve its consenting process as the city's rebuild began to gather momentum.
However, the council continued to issue consents even though they were no longer approved by the independent authority IANZ.
IANZ had earlier warned the council that they had to speed up the flow of consent approvals or face losing accreditation.
The Government had also threatened to step in due to the local body's "repeated inability'' to meet statutory timeframes for processing building consents.
Staff from the Ministry of Business, Innovation and Employment (MBIE) had been sent to join the council's consenting department to help clear the backlog.
Engineers raised concerns with MBIE about the design and safety of seven buildings.
A review by MBIE Chief Engineer Mike Stannard has found in all seven cases the council consenting process reasonably relied on the expertise of the consent applicants' engineers when issuing consents.
"In four cases however, potential issues with the quality of design work provided by those engineers during the consenting process were identified,'' Mr Williamson says.
MBIE has then asked Institution of Professional Engineers New Zealand (IPENZ), acting as the registration authority, to investigate whether the engineers involved in these cases adequately exercised their professional obligations.'
It is investigating under its disciplinary enquiry processes whether any engineers concerned performed engineering services in a "negligent or incompetent manner'' or breached the relevant code of ethical conduct.
MBIE today confirmed that the four commercial buildings were granted consent between September 2010 and November 2012. Only one is in the CBD.
All affected engineers have been informed. If any disciplinary action is taken, the parties involved would be named and penalties stated on the Registration Authority website.
"The review is a reminder to the engineering profession that buildings need to be designed to meet Building Code requirements, and the council consenting process does not absolve the engineer involved of that responsibility,'' Mr Williams said.
"It's also important to stress that none of these four buildings pose any current safety risks, as they have been repaired or demolished.''
The city council's former chief executive Tony Marryatt was stood down on paid indefinite leave over the consents debacle. He later resigned.
IPENZ chief executive Dr Andrew Cleland said it was vital that engineers, authorities and informed members of the public raised the alert with IPENZ if they became aware of any engineering work that could pose a concern.
The registration authority can only investigate an engineer if they are a member or a Chartered Professional Engineer (CPEng) after receiving a formal complaint by a member of the public about incompetent or negligent engineering work.