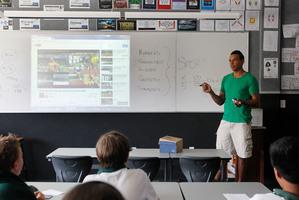 A $1 billion cash injection will modernise 80 per cent of classrooms in greater Christchurch over the next nine years, the Government announced today.
The Government last year announced in controversial fashion that it will spend the money in a decade-long programme of restoring and renewing the schools in the post-earthquake environment.
Today, it outlined a schedule for rebuilding, repairing and renewing 115 schools across greater Christchurch.
It will include building 13 schools on new sites, rebuilding 10 schools on existing sites, and either fully or moderately redeveloping a further 92 schools.
More than 1200 new classrooms will be built, and further 1200 repaired in what will create "improved teaching spaces, fit for modern learning best practice and technology".
"This is a substantial investment and a significant milestone in education renewal in greater Christchurch that I know schools and school communities have been eagerly awaiting," said Education Minister Hekia Parata.
"We are providing something better for the children and young people of Christchurch."
Canterbury Earthquake Recovery Minister Gerry Brownlee says the timeline for the rebuild is tight given the amount of work and its complexity.
But the Ministry of Education will be undertaking a review in 2017 to see if they can bring forward the latter part of the programme.
"When complete, over 80 per cent of classrooms in greater Christchurch will be modern learning environments," Mr Brownlee said.
"This will complement all the other rebuilding and renewal work going on around greater Christchurch."