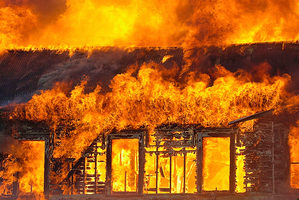 A woman who wanted to flee Christchurch after becoming embroiled with a gang set fire in her own flat, causing a flatmate to jump from a second floor window and a terrified mum to escape leaving a young child behind.
Kindra McMaster, 21, was jailed for four years and five months today after being found guilty by a jury over the November 2011 arson.
The court heard how she had tried to get gang members to beat up an ex-boyfriend, but it had "backfired ... badly''.
She explained that she thought by lighting the fire in the flat - where her flatmate was in a deep sleep, after having taken a sleeping pill - it would help her case to receive money from Victim Support and WINZ.
The fire, lit inside her Pages Rd flat in the early hours of the morning, quickly took hold.
While she woke her flatmate and went to raise the alarm with the emergency services herself, it sent panic through the eight flats in the two-storey block.
Her petrified flatmate leapt to safety from the second floor window.
Another young mother was so scared she ran out of the burning building, leaving her child behind, Christchurch District Court heard today.
It was only a matter of "good luck'', Crown prosecutor Kathy Basire said, that no one was killed in the blaze, which firefighters arrived to find well-involved.
McMaster presented an apology letter to the court today, which although Judge Paul Kellar said had come "at the 12th hour'', was an admittance of guilt nonetheless.
Judge Kellar said the potential for serious harm to the block of flats' sleeping occupants was "grave''.
As well as the emotional harm McMaster caused, insurers had also paid out around $95,000 to the landlord and flats' owner for the extensive damage the fire caused, as well as compensation for loss of income.
He jailed her for four years on the arson charge, plus a cumulative sentence of five months for dishonest use of an Eftpos card, and a concurrent one-month sentence for a breach of community work.